Product News: Computer Hardware & Peripherals
Industrial Fanless Box PC targets transportation surveillance.
Press Release Summary: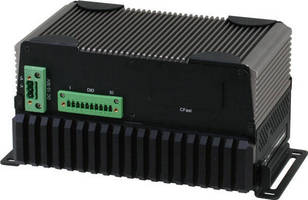 January 20, 2014 - Powered by Intel® Atom™ D2550 processor, AEC-VS01 supports 4-channel PoE ports to meet video surveillance needs of school buses, transportation companies, and logistics industries. System memory consists of one DDR3 800/1066 SODIMM up to 4 GB. Mini-Card slot allows for expansion, and SIM card support for mobile networking services enables mobile communications via Wi-Fi, BT, GPRS, and 3G interfaces. Multiple connectivity options are standard, and input range is 24–30 V.
Original Press Release
AAEON Introduces New Intel® Atom(TM) Fanless Box PC AEC-VS01 for Bus/Truck Video Surveillance Applications
Press release date: January 14, 2014
Cost-effective BOX PC solutions fulfill the transportation security necessity of SMBs and schools

Taipei, Taiwan — AAEON, a major developer of industrial computing solutions, today announces new industrial Intel® Atom™ 4-channel AEC-VS01 BOX PC, exclusively designed for the video surveillance needs of school buses, transportation companies and logistics industries.

Public transportation systems have always been an essential part of modern civilization and economic development. Among all these public transportation systems, "Bus/Truck Video Surveillance" is a more important and growing need for schools, transportation companies and cargo/shipping businesses. To help ensure the overall security during the whole passing route and mark the key events occurred, AAEON provides new entry-level fanless Box PC AEC-VS01 to meet this growing demand.

The new AAEON AEC-VS01 utilizes the Intel® Atom™ D2550 processor and supports 4-channel PoE ports for video surveillance applications. With its innovative PoE (Power Over Ethernet) function, customers can easily install their IP Camera anywhere to minimize cable installation issue and therefore spare extra cost for system maintenance. The AEC-VS01 is also tested and proved to be compatible with the 3'rd party surveillance software which allows customers to easily execute the remote management and system maintenance. The system memory is one DDR3 800/1066 SODIMM up to 4GB. In addition, AEC-VS01 equips one Mini-Card slot for expansion that increases the flexibility of system installation. With SIM card support for Mobile Networking Services, it's easy for AEC-VS01 to achieve mobile communications through Wifi, BT, GPRS and 3G interfaces. Moreover, three RS-232, one RS-232/422/485, two 10/100/1000Base-TX RJ-45, and four USB 2.0 ports allow communication with diverse devices with a high transfer rate. The compact size and aluminum case of AEC-VS01 make it easy for customers to install it in the customer's own housing, or as a stand-alone application where space is limited or used in vehicles.

Many people and companies rely on public transportation such as buses and trucks. It's really crucial to maintain buses/trucks' regularities and ensure their security. Integrating the AEC-VS01 to these vital and complicated transportation and logistics applications will help increase the safety and reliability of the whole transportation system. "The AEC-VS01 offers very competitive price with extraordinary high reliability for transportation surveillance applications. It is ruggedized and offers excellent anti-vibration protection when used in vehicles. With its DC design and wide range power input support from 24 to 30 volts, it provides a robust BOX PC platform that mostly applies to the rugged and Bus/Truck Video Surveillance applications." stated Wayne Chen, CTO of AAEON. "The excellent scalability, flexibility, and expandability make the AEC-VS01 a perfect platform upon which to apply to school buses, transportation companies, logistics industries and even warehouse automation monitoring."

For more product and service information, please contact AAEON's regional sales representatives or visit www.aaeon.com.

About AAEON
AAEON is a leading manufacturer of advanced industrial and embedded computing platforms. Committed to innovative engineering, AAEON provides integrated solutions, hardware and services for premier OEM/ODMs and system integrators worldwide. Reliable and high quality computing platforms include industrial motherboards and systems, industrial displays, rugged tablets, PC/104 modules, PICMG half-size and full-size boards and COM modules, embedded SBCs, embedded controllers and related accessories. AAEON also offers customized end-to-end services from initial product conceptualization and product development on through to volume manufacturing and after-sales service programs. AAEON is an Associate member of the Intel Intelligent Systems Alliance.

Notes:
1. Intel, Intel Core and Celeron are registered trademarks of Intel Corporation in the United States and other countries.
2. Note to reporters, editors and writers: AAEON is written in ALL CAPS.

Press Contact
AAEON Technology Inc.
David Chen
TEL: +886-2-8919-1234 # 1113
Email: davidchen@aaeon.com.tw