Product News: Computer Hardware & Peripherals
Industrial 3.5 in. Micro Module meets embedded market demands.
Press Release Summary: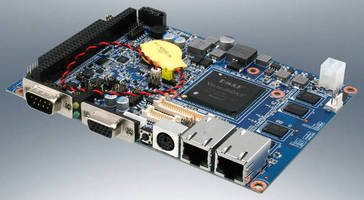 April 10, 2014 - Fanless ECM-DX2 leverages 4.5 W, 800 MHz DMP Vortex86DX2 SoC CPU, which integrates CPU, North and South Bridge, GPU, HD Audio, I/O ports, ISA, and PCIe bus. Along with up to 1 GB (32-bit) onboard DDR2 memory and single-channel, 24-bit LVDS (18-bit optional), module supports VGA+LVDS or VGA+TTL multi-display configurations. I/O includes SATA II, 4 COM, 2 USB 2.0, 8-bit GPIOs, 2 Ethernet, and PS/2, while expansion is catered to by PC/104 (8/16-Bit ISA) slot and 1 Mini-PCIe Card slot.
Original Press Release
Avalue Launches New 3.5h Micro Module - ECM-DX2
Press release date: March 20, 2014
TAIPEI, TAIWAN–Avalue Technology Inc. (TAIEX: 3479-TW), global Embedded Solution provider. Avalue is unveiling ECM-DX2, which is highly integrated, low power consumption design, fanless operation and extended temperature supported by using the DMP Vortex86DX2 SoC (System-on-Chip) CPU. Vortex86DX2 SoC CPU is indeed designed ideally for industrial and embedded applications due to various integrations of I/Os, compact design, longevity, ruggedness, and power efficiency. It is the world's first SoC which integrates CPU, North and South Bridge, GPU, HD Audio, versatile I/O ports, ISA, and PCIe bus into a single chip.

Avalue's ECM-DX2 has adopted the DMP's Vortex86DX2 4.5W @ 800MHz SoC solution which is the 3rd generation SoC of Vortex86 family. The ECM-DX2 supports onboard DDR2 memory that supports up to 32bit 1GB and supports single channel 24-bit LVDS (optional 18-bit) as well as VGA+LVDS or VGA+TTL multi-display configurations. The I/O deployment includes 1 SATA II interface, 4 COM ports, 2 USB 2.0 ports, 8-bit GPIOs, 2 Ethernet ports and 1 PS/2 connectors for keyboard and mouse. ECM-DX2 also provides PC/104 expansion (8/16-Bit ISA) slot and 1 Mini-PCIe Card slot, which is more flexible for various applications.

ECM-DX2 withstands industrial operation environments for temperatures between -40`75°C. It also supports a {12`26V wide voltage input. Multiple OS support including Windows 2000, Windows XP and Linux can be used in a variety of embedded designs. The ECM-DX2 is targeted to meet demands for the embedded market, such as Industrial Automation, Railway Industry, Cleantech, Transportation/Vehicle Construction and Aviation applications.

Main features of ECM-DX2:
• DM&P Vortex86DX2 SoC, Low Power Consumption,4.5W @ 800MHz
• Onboard DDR2 Memory Up to 1GB (32bit)
• Dual view : VGA + LVDS, VGA + TTL
• Single-channel 24-bit LVDS (Optional 18-bit)
• 1 SATA II, 4 COM, 2 USB 2.0, 8-bit GPIO, Dual LAN
• PC/104 Expansion (8/16-Bit ISA)
• Supports Extended Temperature to -40 ~ 75°C
• HD Audio
• Fanless Operation

For more information about ECM-DX2, please visit our website at www.avalue.com.tw, enter the keyword "ECM-DX2" and click search button or contact us at sales@avalue.com.tw for more details.

About Avalue Technology
Avalue Technology (TAIEX: 3479-TW) is a professional industrial computer manufacturing company, which is dedicated to developing the x86 architecture products, including embedded computers, single board computers (SBC), Systems-on-Modules/ ETX (SoM/ ETX), industrial motherboards, all-purpose panel PCs, and barebone products, etc. Having expanded, Avalue offers its expertise on PCB/ Assembly/ BIOS version control and after-sales all type of services. An ISO 9001:2008 certified company; Avalue offers assurance to customers in every aspect of its business. With its headquarter located in Taiwan, Avalue has global subsidiary company, including offices in Shanghai, New Jersey, Tokyo, and Denmark. In addition, Avalue Technology operates an extensive distribution network to accommodate and serve customers all over the world.

Media Contact:
Email: pr@avalue.com.tw