Incident Management System is optimized for desktop/mobile use.
Press Release Summary: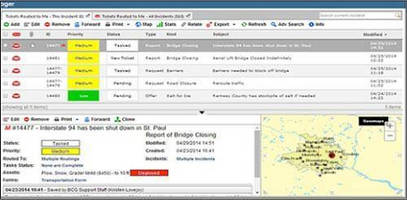 May 30, 2014 - Used in emergency operations centers to manage planned events as well as disasters based on ICS/NIMS standards, DisasterLAN (DLAN) v9.0 offers accessibility from any location. Responsive design scales amount of information displayed dynamically based on user's screen resolution. Web-based solution also features Status Board Module, which shows updated situational awareness information and allows individual information panes to be popped out into their own windows and rearranged.
Original Press Release
Buffalo Computer Graphics Rolls Out Disaster LAN Version 9.0 with Complete Redesign, Upgrades to Usability, and Optimization for Mobile Devices
Press release date: May 21, 2014
BUFFALO, N.Y. – DisasterLAN (DLAN) version 9.0 includes major upgrades to style, usability, and function. The new design and logo are more than just a facelift, the new style reflects system-wide changes that improve usability for both desktop and mobile devices.

One of DLAN's major advantages as a web-based product is its accessibility from any location. The new version uses a responsive design to scale the amount of information displayed dynamically based upon the user's screen resolution, adding style and improved usability to DLAN when accessed from a smartphone or tablet. This makes it even easier for emergency managers in the field to send important information back to the Emergency Operations Center (EOC).

"In today's emergencies, it is critical that incident management technology blend with the tools emergency managers take with them in the field. IMS systems that respond to the individual device choices and mobility needs of their users, provide for them the enhanced capabilities they need to be fully tied in with the critical decisions going on at the EOC." - Tim Masterson (DisasterLAN Product Manager)

In addition to style updates, the DLAN Status Board Module has also been significantly improved. It has been optimized for both large displays within an EOC and smaller mobile devices. The Status Board displays updated situational awareness information and is often projected within the EOC to provide a common operational picture to staff members. The Status Board has been updated so that individual information panes can be popped out into their own windows and rearranged as desired to fit an EOC's displays or LCD TVs.

BCG works closely with its customers and many of the upgrades in this version were based on customer feedback and suggestions. BCG engineers also engage in constant research and development and strive to make each iteration of DLAN the most user-friendly, comprehensive, and secure incident management software on the market. DLAN 9.0 is the latest manifestation of these efforts ensuring the software continues to evolve with changing technologies and advances in emergency management.

DisasterLAN is a web-based incident management system designed for use in emergency operations centers to manage both planned events and disasters using ICS and NIMS standards.

BCG is a veteran-owned privately held US Small Business incorporated in 1982.

Contact:
Nancy Kensy
Director of Marketing
Buffalo Computer Graphics
(716) 822-8668
Email
www.disasterlan.com

Web Site: http://www.disasterlan.com