Product News: Computer Hardware & Peripherals
In-Vehicle Touchscreen HMIs enable real-time data collection.
Press Release Summary: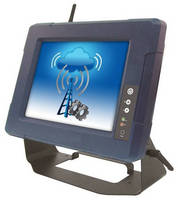 March 31, 2014 - Available in sunlight-readable, 8.4 and 10.4 in. resistive touchscreen models, AIS vehicle-mounted computers/HMIs are powered by embedded, 1.86 GHz Intel® Atom™ Dual Core CPU D2550 with 1M cache and come with 4 GB max memory, Intel Hyper-Threading Technology, and Intel 64 architecture. Products have IP65-sealed aluminum housing and meet MIL-STD-810F ratings for shock, vibration, and drop resistance. Operating from -13 to +131°F, computers offer various communication/connectivity options.
Original Press Release
AIS In-Vehicle Touch-Screen HMIs Combine Wireless Technology and Ruggedized Design that Enable Real-Time Data Communications in the Harshest Manufacturing Environments
Press release date: March 24, 2014
AIS Vehicle Mounted Touch Screen Computers with Anti-Vibration, Dustproof and Rugged Housing for Fleet Management, Warehousing and Logistics Applications

IRVINE, CALIFORNIA – American Industrial Systems, Inc. (AIS), the leading manufacturer of in-vehicle embedded computing solutions, HMIs and operator interfaces for control and monitoring, announces their newest family of ruggedized, vehicle mounted operator control panels. The new in-vehicle mounted touch-screens are ideal for a variety of applications including fleet management, smart warehousing, logistics, transportation and other harsh and demanding environments. The in-vehicle computers and HMIs from AIS feature wireless connectivity and are specially designed to embrace new Machine-to-Machine (M2M) and Internet of Things (IoT) technologies for smart warehouse management systems, fleet management and dispatch applications. For control and communication, it offers ISO 11783, SAE J1939 and CANBUS conforming device communications.

Ruggedly Designed AIS Vehicle Mounted Touch-Screen HMIs with MIL Spec Ratings
The user-friendly, touch-screen interface also offers a sunlight-readable display for outdoor applications. With an IP65-sealed aluminum housing and MIL-STD-810F military rating, the in-vehicle and fixed-mount touch-screen computer allows it to withstand extreme environments, vibration, and shock. A wide operating temperature range of -25 to 55° C (-13 to 131° F), allows the touch-screen computer to be installed and used in extreme cold or hot temperatures. Suitable for aerospace, maritime, industrial automation and medical equipment, its robust design and dustproof, rugged housing makes it suitable for almost any harsh or challenging environment.

The in-vehicle and fixed-mount touch-screen computer features an Intel® Atom™ Dual Core D2550 processor, 802.11a/b/g Wireless WLAN, and Windows Embedded Standard 7, providing support for a wide range of applications and allowing real-time processing. AIS in-vehicle touch screen panel PC combines rugged construction with high performance, availability and reliable wireless networking, enabling real-time data access and collection in harsh environments. The rugged constructions of the AIS vehicle mounted touch screen computers are available in 8.4" and 10.4" high-resolution touch-screen displays. They enable easy data input and readability, even for applications requiring gloved and protected hands.

AIS Smart M2M HMIs for Raw Materials, Tracking & Finished Goods Warehouse Management
Production and warehouse operations look for ways to continually improve inventory positions, lower operating costs and enhance customer satisfaction. Being able to respond quickly to customer demands, increase inventory turns, improve line-level accuracy and simplify compliance requirements is critical for maximizing operations. With wireless connectivity and warehouse management application, AIS smart M2M touch-screen computers and HMIs will help warehouse, production and logistics managers to achieve total visibility and keep their production line moving –from raw materials, to material tracking, to finished goods.

Streamline Fleet Management with Real-Time Data Communication Capabilities
With rising fuel costs, compliance mandates and increased customer service expectations, transportation and logistics companies need in-vehicle computers and HMIs that will allow their drivers to operate equipment anytime and anywhere with minimal disruptions. AIS vehicle mounted operator interfaces will deliver the most efficient fleet management visualization solutions.  In addition, AIS in-vehicle mounted computers will give transportation and logistics companies the ability to increase safety and gain better visibility by tracking vehicle location, monitor driving speeds and patterns. By obtaining greater control, monitoring and communications capabilities, they will increase the safety of their drivers and cargo thereby decreasing insurance costs.

AIS Industrial Embedded Computing for Rugged Environments and Long Term Availability
Available in 8.4" and 10.4" resistive touch-screen models, AIS vehicle mounted touch-screen computers are powered by an embedded Intel® Atom™ Processor D2550; 1M Cache, 1.86 GHz, 10 W thermal design power (TDP), with 4 GB maximum memory,  Intel® Hyper-Threading Technology , and Intel® 64 architecture featuring optimized power for greater performance and energy efficiency.  These vehicle mount displays from AIS are compliant with military ratings for shock, vibration, and drop resistance; MIL-STD 810F, method 516.5 / acceleration 40G; MIL-STD 810F method 514.5 5~500 Hz and MIL-STD 810F method 516.5. AIS in-vehicle rugged panels and monitors support a wide operating temperature range and the front sealed design provides advanced IP65 protection.

About AIS
Headquartered in Irvine, California, USA, American Industrial Systems, Inc. (AIS) offers in-house electronic and mechanical design, software development, manufacturing, production and quality control services. Offering one of the widest ranges of Industrial Computing Solutions, AIS solutions are available in a multitude of configurations for Industrial, Oil & Gas, Military and Marine Applications. The company is fully committed to empowering, improving and delivering turnkey HMI, monitoring and display solutions for OEM, ODM and end-user customers. AIS is an ISO 9001:2008 certified supplier and manufacturer of rugged computers and displays, and received completion of the International Traffic in Arms Regulations (ITAR) registration from the Directorate of Defense Trade Controls (DDTC). For more information, visit: www.aispro.com, email: sales@aispro.com or contact: 1-888-485-6688.

Media Relations Contact:
American Industrial Systems, Inc.
David G. Martorana
Public Relations
Call: 1-847-630-6487 or Email: dgmcreative@sbcglobal.net