Imaging Software seamlessly controls motorized hardware.
Press Release Summary: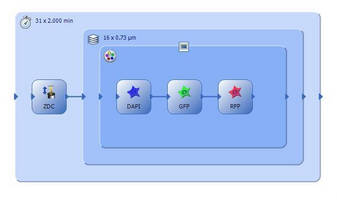 June 5, 2014 - Able to facilitate setup of complex acquisition sequences and protocols, cellSens v1.11 features GEM interface that lets user draw their experimental schematic on-screen with drag-and-drop actions. Interface capabilities also cover control of motorized stages, enabling automation of multi-position experiments. Providing insights into biological processes, features include online ratiometric analysis, real-time results delivery, and control of rapid focusing devices for 3D applications.
Olympus Europa Holding GmbH
Original Press Release
CellSens 1.11 - Discover a New Level of Simplicity
Press release date: May 26, 2014
With Olympus' unique GEM interface integrated into the latest release of the cellSens imaging software, executing even the most intricate life science imaging experiments is now realised with outstanding ease and efficiency.

Hamburg – Personalised automation is the key to managing complex multi-dimensional experiments, and the latest Olympus cellSens imaging software (version 1.11) seamlessly controls motorised hardware to allow effortless set-up of complex acquisition sequences and protocols. The unique Graphical Experiment Manager (GEM) interface allows the user to "draw" their experimental schematic on-screen with familiar "drag and drop" actions, enabling complete control and experimental set-up of motorised components and accessories with almost no need for training. The capabilities of this intuitive interface are now expanded to the control of motorised stages, enabling the easy automation of multi-position experiments such as individual scanning protocols performed at different positions on a multiwell plate.

Providing insights into a host of biological processes, additional new features of the software include online ratiometric analysis, delivering results in real time and control of rapid focusing devices for fast 3D applications, while also supporting the latest cameras and image-splitter components. From image acquisition to analysis, expanding the range of components compatible with cellSens presents new avenues of exploration within life science. Additional models of EMCCD and sCMOS cameras are now supported such as the Hamamatsu ImagEM X2 and the Andor Zyla 4.2, delivering rapid and sensitive imaging; while 3D applications benefit from the integrated control of piezo-driven devices, for ultra-fast Z-stacking and focusing. Multi-channel imaging of samples with fast dynamics is now supported through the use of an image splitter, with up to four emission channels acquired at the same precise moment. The exact synchronisation of multiple wavelengths also quickly produces reliable images for advanced applications such as FRET and ratiometric analysis. Moreover, ratiometric analysis can now be achieved "online", enabling the real-time tracking and updating of ratiometric images and graphs during experiments.

These combined features make cellSens version 1.11 ideal for a range of life science imaging applications, enabling any user to rapidly and easily generate reliable results.

Please contact:

Olympus:
Ralf Schäfer (Marketing Communications Manager Microscopy)
Olympus Europa SE & Co. KG
Hamburg, GER
Tel: +49 (0) 40 23773 5913
Fax: +49 (0) 40 23773 505 913
E-mail: microscopy@olympus-europa.com
Web: www.olympus-europa.com/microscopy

Text:
Victoria Coupe (Account Manager)
Alto Marketing
Southampton, UK
Tel: +44 (0) 1489 557 672
Fax: +44 (0) 1489 559 246
E-mail: victoriac@alto-marketing.com
Web: www.alto-marketing.com

Olympus media contact in the USA:
Ilene Semiatin
Edge Communications Inc.
White Plains, NY 10605
1.914.684.0959
ilene@edge-comm.net