Product News: Sensors, Monitors & Transducers
Image Sensor delivers 1080p HD video to front-facing cameras.
Press Release Summary: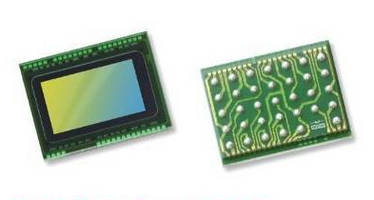 June 10, 2014 - Built on 1.4 micron backside illuminated pixel, PureCel™ OV2740 consumes 90 mW when recording 1080p HD video at 60 fps, and offers front-facing camera solution for smartphones, tablets, notebooks, and Ultrabooks. Device uses staggered high dynamic range to minimize motion artifacts to capture crisp, clear video in difficult lighting conditions. Measuring 5 x 5 x 3 mm, sensor features light-sensing mode and ultra-low power mode, enabling features such as motion detection and gesture control.
Original Press Release
OmniVision Launches the World's Most Power-Efficient 1080p/60 High Definition Image Sensor
Press release date: June 2, 2014
PureCel(TM) OV2740 Image Sensor Delivers Best-In-Class 1080p HD Video to Front-Facing Cameras in Smartphones, Tablets, and Notebooks

SANTA CLARA, Calif. -- OmniVision Technologies, Inc. (NASDAQ: OVTI), a leading developer of advanced digital imaging solutions, today announced the OV2740, an ultra-low power, full high-definition (FHD) PureCel(TM) image sensor. By consuming only 90mW of power when recording 1080p HD video at 60 frames per second (FPS), the OV2740 is the lowest power 1080p/60 HD image sensor currently on the market, making it an ideal front-facing camera solution for next-generation smartphones, tablets, notebooks and Ultrabooks.

"Front-facing cameras in smartphones and tablets have quickly become a standard feature. Industry analysts estimate that an increasing fraction of mobile devices will contain both front- and rear-facing cameras, with nearly two billion front-facing cameras expected to have been incorporated into smartphones and tablets by 2017(1)," said Archie de Guzman, senior product marketing manager at OmniVision. "As part of our PureCel(TM) product family, the OV2740 is a no-compromise HD front-facing camera solution targeted at a wide range of advanced mobile devices, where battery life and image quality are critical differentiating factors."

Built on a 1.4-micron backside illuminated pixel, the OV2740 PureCel(TM) image sensor achieves a 50 percent improvement in full-well capacity (FWC) and a 30 percent improvement in sensitivity, compared to previous generation OmniVision sensors. The OV2740 records best-in-class 1080p HD video at 60 FPS and 720p HD video at 90 FPS, and uses staggered high dynamic range (HDR) to minimize motion artifacts to capture crisp, clear video in difficult lighting conditions.

The OV2740 is the only 1080p HD image sensor announced to date that features light-sensing mode (LSM) and ultra-low power mode (ULPM), enabling advanced features such as motion detection or gesture control. Additionally, the sensor is stereo ready with frame synchronization to support a host of depth perception applications.

The OV2740 fits into an ultra-compact 5 x 5 x 3 mm module. It is currently sampling and is expected to enter volume production in the third quarter of 2014.

About OmniVision
OmniVision Technologies (NASDAQ: OVTI) is a leading developer of advanced digital imaging solutions. Its award-winning CMOS imaging technology enables superior image quality in many of today's consumer and commercial applications, including mobile phones, notebooks, tablets and webcams, digital still and video cameras, security and surveillance, entertainment devices, automotive and medical imaging systems. Find out more at www.ovt.com.

OmniVision® and the OmniVision logo are registered trademarks of OmniVision Technologies, Inc. PureCel(TM) is a trademark of OmniVision Technologies, Inc. All other trademarks are the property of their respective owners.

(1) Source: TSR "1st Half 2013 CCD/CMOS Area Image Sensor Market Analysis"

CONTACT:
Company Contact:
Scott Foster
OmniVision Technologies
408.567.3077
sfoster@ovt.com