Product News: Sensors, Monitors & Transducers
Image Sensor brings VGA video to consumer applications.
Press Release Summary: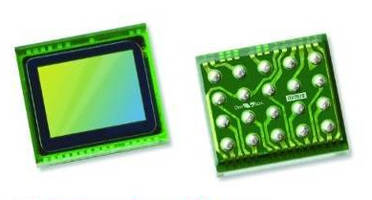 August 28, 2014 - Built on 3 micron OmniPixel3-HS™ technology, OV7676 1/7.5 in. SoC VGA Sensor suits range of applications, including mobile phones, tablets, wearables, notebooks, and IP network cameras. Sensor supports video-in-video functionality when used as front-facing camera solution, allowing users to simultaneously record video feeds from both front- and rear-facing cameras. Supplied in 2.73 x 2.47 mm chip-scale package, sensor also supports SPI and DVP interface customization.
Original Press Release
OmniVision's High Performance, Low-Cost Image Sensor Brings Best-In-Class VGA Video to a Wide Range of Consumer Applications
Press release date: August 24, 2014
New OV7676 1/7.5-Inch System-On-A-Chip VGA Sensor Excels In Both Performance And Cost-Effectiveness

SANTA CLARA, Calif., -- OmniVision Technologies, Inc. (NASDAQ: OVTI), a leading developer of advanced digital imaging solutions, today announced the OV7676, a new cost-effective 1/7.5-inch system-on-a-chip (SOC) VGA sensor. Leveraging OmniVision's established OmniPixel3-HS(TM) technology, the OV7676 brings best-in-class pixel performance to a wide range of applications, including mobile phones, tablets, wearables, notebooks, and IP network cameras.

"The OV7676 is uniquely positioned to deliver high-level performance to a diverse range of consumer devices that have stringent requirements on function and value," said Paul Gallagher, senior director of marketing and business development at OmniVision. "With more mainstream devices incorporating cameras in their designs, we believe the OV7676 is ideally suited to meet the demands of this particular product segment. Likewise, the OV7676 can also serve as a cost-effective camera solution for emerging applications, such as IP security cameras and wearable devices."

Built on OmniVision's 3-micron OmniPixel3-HS technology, the OV7676 achieves best-in-class low-light sensitivity, signal-to-noise ratio, full-well capacity, quantum efficiency and low-power consumption. When used as a front-facing camera solution in smartphones, tablets and notebooks, the OV7676 also supports video-in-video functionality, allowing users to simultaneously record video feeds from both the front- and rear-facing cameras. Additionally, the OV7676 supports serial peripheral interface (SPI) and digital video port (DVP) interface customization for both smartphone and feature phone platforms.

The OV7676 fits into a 2.73 x 2.47 mm chip-scale package. The sensor is currently available for sampling and is expected to enter volume production in the fourth quarter of 2014.

About OmniVision
OmniVision Technologies (NASDAQ: OVTI) is a leading developer of advanced digital imaging solutions. Its award-winning CMOS imaging technology enables superior image quality in many of today's consumer and commercial applications, including mobile phones, notebooks, tablets and webcams, digital still and video cameras, security and surveillance, entertainment devices, automotive and medical imaging systems. Find out more at www.ovt.com.

OmniVision® and the OmniVision logo are registered trademarks of OmniVision Technologies, Inc. CameraChip(TM) and OmniPixel3-HS(TM) are trademarks of OmniVision Technologies, Inc. All other trademarks are the property of their respective owners.

CONTACT: Company Contact: Scott Foster, OmniVision Technologies, 408.567.3077, sfoster@ovt.com