IT Operating Model includes cloud billing support.
Press Release Summary: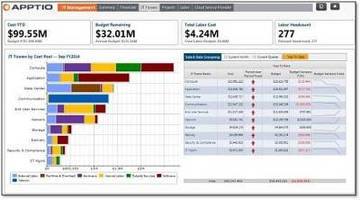 August 21, 2014 - Integrated into Apptio platform and its applications, Apptio TBM Unified Model™ standardizes IT cost and data models. Program includes aggregation and allocation of on-premises and cloud services including Amazon Web Services billing data, management of third-party vendor spend, and analysis of labor and project costs. With IT Benchmarking application, IT leaders can view ongoing, automated comparisons of IT costs against peer benchmarks tailored to company size, geography, and industry.
Original Press Release
Apptio Delivers the Industry's First Standard IT Operating Model with New Major SaaS Release; Includes Cloud Billing Support and Peer Benchmarking
Press release date: August 14, 2014
The CIO-led TBM Council Endorsed Cost Model Allows IT Leaders to Automate Processes like Peer Benchmarking, and the Aggregation and Allocation of Public Cloud Billing Data

BELLEVUE, Wash., -- Apptio®, the leading provider of cloud-based Technology Business Management (TBM) software, today announced the public availability of the industry's first standard operating model for managing the business of IT and its next major SaaS release.

The Apptio TBM Unified Model(TM) (ATUM(TM)), standardizes IT cost and data models and is now integrated into the Apptio platform and its applications, creating the first standard operating model for IT. New features also include the aggregation and allocation of on-premises and cloud services including Amazon Web Services (AWS) billing data, management of third-party vendor spend, analysis of labor and project costs, and automated peer benchmarking.

Apptio also announced today that the TBM Council(TM), a not-for-profit organization comprised of more than 1,300 CIOs and IT executives, voted in May 2014 to endorse ATUM as the standard model for IT. ATUM allows every IT organization to adopt a standard approach for managing the business of IT and includes standard cost, cost categories, and data models, along with hundreds of metric and breakout reports. With Apptio's standard IT operating model, IT leaders can make faster, data-driven decisions about the cost, quality and value of their technology.

Cut through the fog of costs with Cost Transparency Foundation
The latest version of Apptio's Cost Transparency Foundation (CTF) application now standardizes the IT cost categories and automates the integration and mapping of invoices for cloud providers, such as AWS. Apptio also consolidates third-party vendor billing data to empower customers with insight into 100% of their IT spend, including cloud and traditional, on-premises, and hosted costs. CTF also provides granular analytics into projects, vendors and labor spend for IT.

"AWS delivers robust cloud services that enable enterprises to quickly migrate existing applications and deploy new projects with greater efficiency and a lower TCO," said Terry Wise, Head of Worldwide Partner Ecosystem, Amazon Web Services, Inc. "It is important for Enterprise IT organizations to understand the comprehensive cost of running their IT infrastructure in order to confidently measure the success of the services they are providing to their business partners. Given the nature of today's highly complex IT environments, it's essential that IT leaders are empowered with actionable fact-based data and we are pleased that Apptio is now supporting the integration of AWS billing data."

Today, cloud costs can be fragmented across various systems, vendors, and geographies leading to unintended waste and unnecessary spend. More importantly, cloud spend may not be integrated with the rest of IT business analysis and multiple line items from different vendors can be hard to decipher.

IT leaders can now consolidate vendors to identify volume discount opportunities, ease vendor management, align spend to portfolio strategy, and arm themselves for negotiations. These improvements also help IT leaders drive better decisions and conversations by showing how the full cost of cloud fits into their IT business.

A report by Forrester Research¹ states: "There are two challenges with IT spend. First, the business has very little visibility into how IT spends its budget. Second, much of what IT spends (around 70% of its budget) goes toward maintenance and operation of its organization, systems, and equipment." According to Eveline Oehrlich, Forrester VP, Research Director, "Cost transparency and understanding the business strategy are critical success factors for this balancing act."

Apples-to-Apples Comparison of IT Spend, Out-of-the-Box
Apptio's IT Benchmarking application now allows IT leaders to view ongoing, automated comparisons of IT costs against peer benchmarks tailored to company size, geography, and industry. IT Benchmarking extends CTF by leveraging the ATUM model to enable automatic and ongoing comparisons of actual spend against industry benchmarks.

Apptio IT Benchmarking leverages data from the leading vendors in the IT benchmarking industry, including a new partnership with the Information Services Group (ISG). Apptio complements these sources with its own expertise and experiences with more than 200 implementations to create an automated, unbiased view of the IT spend trends at a granular level.

"Until today, the ability to easily benchmark in a consistent, automated way against our industry peers was nonexistent," said Donna Woodruff, Director Technology Business Management Office at AutoTrader Group. "By standardizing the cost modeling and peer benchmarking process, Apptio is changing the way that we manage our technology."

Apptio TBM Unified Model
ATUM has also been expanded so that industry best-practices for infrastructure cost allocation and modeling are now pre-built into Apptio's CTF and IT Benchmarking applications. The ATUM model is integrated into Apptio's TBM platform, underlying all of its applications, and defines what costs to measure, how to measure them, and what data IT needs to do so. For example, using ATUM, IT leaders can utilize Apptio's predefined cost categories broken out into 11 towers (such as compute, storage, network, application, data center, etc.) to distribute their IT management costs. This solves a common challenge for most organizations wherein the finance view of cost centers and a general ledger do not align to common IT management categories making it difficult to translate IT costs into financial language.

"Apptio is bringing cloud costs out of the sky and into the boardroom. Apptio's powerful costing applications empower CIOs to take action based on the true cost of the services they are providing the business," said Sunny Gupta, CEO of Apptio. "Today's CIOs are at the heart of their organizations and it's critical that we arm them with data and insights they need to support the success of their business."

Even More Power in the Platform
Apptio makes all of this data actionable through platform enhancements including out-of-the-box KPIs, mobile-friendly reports, hundreds of common metric and breakout reports, and powerful self-service analytics. For example, metric reports include total cost, total spend, average cost unit, etc., and breakout reports include opex versus capex, fixed versus variable, run versus change, etc. Additionally, Apptio has enhanced its data visualization and analytics capabilities by adding more than 10 new analytics chart types such as double donut, radar, spider, and marker charts.

About Apptio
Apptio is the leading provider of cloud-based Technology Business Management (TBM) software that helps CIOs manage the business of IT. Apptio's suite of applications use business analytics to provide facts and insights about technology cost, value, and quality, so IT leaders can make faster, data-driven decisions. The purpose-built applications help companies align technology spend to business outcomes and automate IT processes like cost transparency, benchmarking, showback/chargeback, operational efficiency, and planning. Powering Apptio's applications is a next generation, in-memory cost analytics platform that takes data directly from all financial, operational, and billing systems, and powers applications that give customers deep insight. This insight spans infrastructure, applications, and business services, both on-premises and in the cloud. Hundreds of customers, including more than a third of the Fortune 100, choose Apptio as their business system of record for IT. For more information, visit the Apptio website or the Apptio blog at www.apptio.com.

¹ "Five Concerted Steps To Maximize The Business Value Of IT", Forrester Research, Inc., Dec. 10, 2013

Media Contact
Sarah Vreugdenhil
Apptio
425-974-1331
svreugdenhil@apptio.com