IP Communicator is designed for fire alarm panels.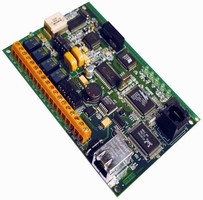 IP Communicator is designed for fire alarm panels.
October 16, 2006 - Without requiring public IP address, IPDACT transmits information generated by fire alarm control panel to central station via Internet. It uses DHCP client for automatic IP address configuration and can utilize any Ethernet network connection, allowing for alarm transmissions of less than 1 sec to optimize response time. Using Contact ID format, IP communicator offers supervised line functionality and AES 512 bit data encryption.

(Archive News Story - Products mentioned in this Archive News Story may or may not be available from the manufacturer.)
Original Press release

Fire-Lite Alarms
12 Clintonville Rd.
Northford, CT, 06472 1653
USA



Fire-Lite Introduces IPDACT, IP Communicator for Fire Alarm Panels


NORTHFORD, Conn.-Fire-Lite Alarms, the leading manufacturer of quality life safety systems, introduces IPDACT, an IP communicator for fire alarm panels. The IPDACT communicator transmits information generated by a fire alarm control panel to a central station via the Internet. The IPDACT can utilize any Ethernet network connection such as ADSL, cable modem, and T1. Compatible with a majority of new Fire-Lite control panels, the IPDACT communicator allows for alarm transmissions of less than one second, which improves response time and minimizes costs.

The IPDACT communicator saves cost by not requiring a public IP address. Instead, it uses a DHCP client for automatic IP address configuration. While a standard telephone line from the fire alarm panel secondary dialer port is used as back up, the IPDACT communicator connects to the panels primary dialer port. For higher redundancy configurations, the system also supports dual destination central station receiver IP addresses. The IPDACT's supervised line functionality is so fast, it allows a central station to quickly detect any off-line alarm panels. The system uses Contact ID format but prior to transmission, the data is further encrypted with AES 512 bit data encryption, one of the highest known

The IPDACT communicator reports to a compatible IP receiver that decrypts the data into standard contact ID and then sends the data to the central station software system. The new receiver uses a high performance embedded operating system for higher reliability and efficiency, is compatible with most all central station formats and supports up to 3,000 IPDACT accounts allowing seamless integration into the conventional central station architecture.

Fire-Lite is part of Honeywell (NYSE:HON) Life Safety Group, an industry leader in providing commercial fire alarms, advanced detection and notification products, and home patient remote tracking.

Honeywell International is a $26 billion diversified technology and manufacturing leader, serving customers worldwide with aerospace products and services; control technologies for buildings, homes and industry; automotive products; turbochargers; and specialty materials. Based in Morris Township, N.J., Honeywell's shares are traded on the New York, London, Chicago and Pacific Stock Exchanges. It is one of the 30 stocks that make up the Dow Jones Industrial Average and is also a component of the Standard & Poor's 500 Index. For additional information, please visit www.honeywell.com

---


Start Your

Free


Subscription to


Industry Market Trends

.