Product News: Computer Hardware & Peripherals
I2C-Equipped, 1 Mbit FRAM can replace EEPROMs for data capture.
Press Release Summary: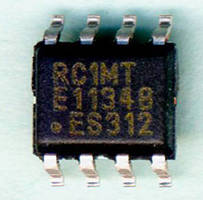 February 27, 2014 - Suited for applications requiring frequent rewriting of data, MB85RC1MT operates from 1.8–3.3 V in temperatures from -40 to +85°C and supports high-speed mode that enables read and write operations at frequencies of 3.4 and 1 MHz. Non-volatility means data is retained even when power is switched off, and random access to memory cells enables accelerated data writing. Rated for 10 trillion write-erase cycles, FRAM features 1 Mbit of memory and I²C serial interface.
Original Press Release
Fujitsu Semiconductor's New 1 Mbit FRAM with I2C Interface Extends Industry-Leading Serial-Memory Lineup
Press release date: February 20, 2014
MB85RC1MT is Ideal for Factory Automation, Instrumentation and Industrial Equipment, Can Replace EEPROMS, Serial FLASH in Many Applications

SUNNYVALE, Calif. -- Fujitsu Semiconductor America (FSA) today introduced the latest in its industry-leading family of FRAMs, the MB85RC1MT, with 1 Mbit of memory - the highest memory capacity of the company's products with an I(2)C serial interface.

The new MB85RC1MT is an excellent design choice for applications requiring frequent rewriting of data, such as real-time data logging for factory-automation, instrumentation, and industrial equipment. It operates between 1.8V and 3.3V in temperature ranges between -40 degrees C and 85 degrees C, and supports "high-speed" mode, which enables read and write at operating frequencies of 3.4MHz and at 1MHz, the same speed as conventional EEPROMs. The new FRAM guarantees 10 trillion write-erase cycles, which significantly exceeds the ability of EEPROMs. It can replace EEPROMs to enable high-precision data capture and reduced power consumption during data writing.

FRAM's non-volatility means that data is retained even when the power is switched off. Random access to its memory cells enables rapid data writing.

Since Fujitsu Semiconductor began volume production of FRAM products in 1999, these features have led to the wide use of FRAMs in applications such as factory automation equipment, instrumentation, financial terminals, and medical devices. The development of the MB85RC1MT adds to Fujitsu's FRAM products that use the I(2)C interface covering a full range from 4 Kbit to 1 Mbit.  In addition, FRAMs with the SPI interface range from 16 Kbit to 2 Mbits. All are offered in industry-standard 8-pin SOP packages to replace EEPROMs and serial Flash memories in a broad variety of applications with no need for major changes in PCB design.

Samples of the new MB85RC1MT are available now.

Fujitsu Semiconductor, leveraging its expertise in both design and manufacturing, has been recognized and awarded the 60(th) "Okochi Memorial Technology Prize" for the FRAM production technology development. Fujitsu Semiconductor continues to develop FRAM products designed to meet customers' requirements, including the smaller 512kbit MB85RC512T with the I(2)C interface. These low-power products are in increasing demand for applications such as energy harvesting where low voltage operation is essential.

For More Information
FRAM Product Page
http://www.fujitsu.com/us/semiconductors/memory/fram/index.html
Press Release: Fujitsu Semiconductor awarded with the 60(th) Okochi Memorial Technology Prize
http://jp.fujitsu.com/group/fsl/en/release/20140217.html

High Resolution Images
MB85RC1MT Package Photo
http://www.fujitsu.com/img/MICRO/fsa/pr/mb85rc1mt.jpg
Write-Erase Cycles Comparison Chart
http://www.fujitsu.com/img/MICRO/fsa/pr/Fujitsu-diagram-cycle.jpg
Power Consumption Chart
http://www.fujitsu.com/img/MICRO/fsa/pr/Fujitsu-diagram-powerconsump.jpg
FRAM Product Line-up (Serial Memory)
http://www.fujitsu.com/img/MICRO/fsa/pr/Fujitsu-diagram-lineup.jpg

About Fujitsu Semiconductor America, Inc.
Fujitsu Semiconductor America, Inc. is a leading designer and developer of innovative semiconductor products and solutions for new generations of consumer, communications, automotive and industrial products. The company provides a comprehensive portfolio of high-quality, reliable semiconductor products and services throughout North and South America. Founded in 1979 and headquartered in Sunnyvale, California, Fujitsu Semiconductor America is a wholly owned subsidiary of Fujitsu Semiconductor Limited (FSL), Japan.

For product information, visit the company's website at http://us.fujitsu.com/semi, e-mail FSA_inquiry@us.fujitsu.com or call 1-800-866-8608. For company news and updates, connect with FSA on Twitter (http://twitter.com/FujitsuSemiUS), Facebook (https://www.facebook.com/FujitsuSemiconductorAmerica), or YouTube (http://www.youtube.com/FujitsuSemiUS).

All product names mentioned herein are trademarks or registered trademarks of their respective owners. Information provided in this press release is accurate at time of publication and subject to change without advance notice.

CONTACT: Sherry Chen, Fujitsu Semiconductor America, Inc., 1-408-737-5654, FSA_PR@us.fujitsu.com; Dick Davies, IPRA, 1-415-652-7515, ipra@mindspring.com