Product News: Test & Measuring Instruments
I/O Module enables device/controller communication via IO-Link.
Press Release Summary: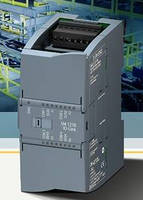 April 15, 2014 - Available for Simatic S7-1200 controller, IO-Link master module is based on IO-Link specification v1.1 and enables field devices connect to controller via IO-Link. Field device parameters are automatically backed up in controller, and all parameters are automatically transferred to new component if field device has to be replaced. Module supports rapid COM3 mode for accelerated response times or handling extensive data sets as well as supporting devices with v1.0 IO-Link specifications.
Original Press Release
IO-Link Master for Simatic Controller
Press release date: April 7, 2014
The Siemens Industry Automation Division has developed a new IO-Link master for its Simatic S7-1200 controller, based on the current IO-Link specification V1.1. The IO-Link master is a module of the S7-1200 controller and connects field devices to the controller via IO-Link. The field device parameters are automatically backed up in the controller. If the field device has to be replaced, all the parameters are automatically transferred to the new component, so the user does not need to back up the data. The new IO-Link master supports the rapid COM3 mode, provided as an option in the standard device, for short response times or for handling extensive data sets, as well as supporting devices with V1.0 IO-Link specifications.

Thanks to the industry-wide IO-Link standard, switching devices and sensors can be connected to the control level with a low-cost point-to-point link.

The Siemens Industry Automation Division has developed a new IO-Link master for its Simatic S7-1200 controller, based on the current IO-Link specification V1.1.

Contact for journalists:
Gerhard Stauß, phone: +49 911 895 7945
E-mail: gerhard.stauss@siemens.com

This press release and a press picture are available at www.siemens.com/press/pi/I2014042311e

For further information, please see www.siemens.com/s7-1200

Follow us in Social Media:
Twitter: www.twitter.com/siemens_press and www.twitter.com/SiemensIndustry
Blog: www.siemens.com/industry-blog

The Siemens Industry Sector (Erlangen, Germany) is the world's leading supplier of innovative and environmentally friendly automation and drive technology, industrial software and technology-based services. The Sector's comprehensive portfolio covers the entire industrial value chain, from product design, engineering and production to services. Siemens enhances its customers' productivity, efficiency, and flexibility in a wide variety of different industries. With a global workforce of more than 100,000 employees, the Industry Sector comprises the Divisions Industry Automation, Drive Technologies and Customer Services as well as the Business Unit Metals Technologies. For more information, visit www.siemens.com/industry