Product News: Controls & Controllers
I/O Controllers suit embedded machine control applications.
Press Release Summary: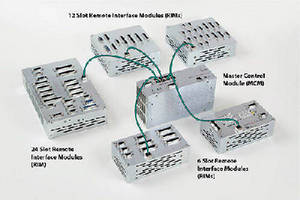 May 29, 2014 - Using distributed input/output architecture, SuperIOr™ Controllers support complex control and interlock strategies that require high-speed distributed I/O. Units can simultaneously manage up to 1,000 inputs and outputs with sub-ms response times. Composed of Master Control Module™ connected to network of Remote Interface Modules™, systems can operate under control of customer-supplied supervisory host computer, or autonomously as system computer for entire machine.
Original Press Release
Digital Dynamics, Inc. (DDI) Announce the Roll Out of their Latest Cutting Edge Family of Input/Output (I/O) Controllers
Press release date: May 28, 2014
SCOTTS VALLEY, CA -- Digital Dynamics, Inc. (DDI) announces the roll out of their latest cutting edge family of input / output  (I/O) controllers.  SuperIOr™ Controller are a complete line of high-speed custom I/O controllers designed for embedded control applications in large complex machines.  DDI designs and manufactures OEM process control equipment for the Semiconductor industry.

The SuperIOr™ Controller uses a distributed input/output (I/O) architecture for embedded machine control applications. The system supports complex control and interlock strategies that require high speed distributed I/O. It can simultaneously manage up to 1000 inputs and outputs with sub-millisecond response times. Typical applications include automation of semiconductor and photovoltaic wafer fabrication tools, metrology systems, extrusion and molding machines, medical manufacturing and analytical equipment.

Each system is composed of a Master Control Module™ (MCM) connected to a network of Remote Interface Modules™ (RIMs). The system can operate under the control of a customer supplied supervisory host computer or can operate autonomously as the system computer for the entire machine.

The SuperIOr™ Controller is a game changer in the world of high speed embedded control. The system combines incredible speed of both control and communication with revolutionary configurable distributed interlocks. It features customizable remote modules that allow precise tailoring of I/O with customer configured field connects.

Digital Dynamics Inc, is an ISO 9001 registered company with 40 years of design and manufacturing experience, and a worldwide installed base of more the 40,000 advanced electronic control systems.  DDI is privately held and located in Scotts Valley, California.

Contact:
Ray Gorki
Director Sales & Marketing
5 Victor Square
Scotts Valley, CA 95066
800 765-1288
rgorski@digitaldynamics.com
www.digitaldyamics.com