Product News: Food Processing & Preparation, Chemical Processing & Waste Management
Hygienic Dryer is designed for coated RTE cereal products.
Press Release Summary: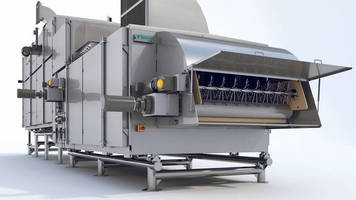 May 19, 2014 - For clean, safe production of ready-to-eat (RTE) cereal products, Ceres dryer features chainless conveyor system, tool-less connections, and hygienic door latches. Other sanitary features include pitched floors and roofs, integrated CIP system, continuous belt washing system, and water management system. Engineered with direct drive fans, internal baffles, air curtains, and insulated doors, floors, and roofs, design optimizes every step of product and air flow.
Original Press Release
Bühler Aeroglide Introduces Revolutionary Hygienic Dryer for Coated RTE Cereal Products
Press release date: April 30, 2014
Cary, NC–Bühler Aeroglide, a global leader in thermal process engineering and technology for food, feed, and advanced industrial materials, has announced a significant break-through innovation for processors of coated ready-to-eat (RTE) cereal products.

Bühler Aeroglide's Food Safety Team introduces a state of the art dryer designed for the clean, safe production of coated RTE cereal products.  The new Bühler Ceres offers maximized production, significantly reduced cleaning times, and energy efficiency with a game-changing design, a direct result of an active collaboration with cereal processors from around the world. The company will showcase a prototype of the dryer next month at Interpack 2014, the process and packaging trade fair in Dusseldorf, Germany.

With four patents pending and more than 30 other innovations, Ceres provides the highest level of sanitary production for coated RTE cereal products available on the market today. From its sophisti-cated chainless conveyor system to the simplicity of tool-less connections and hygienic door latches, the standard has been overturned at every step of the design process.

"The Ceres dryer is the culmination of Bühler's extensive knowledge in cereal production combined with research that  represents the strength of  collaborative innovation," said Bühler Aeroglide Vice President of Business Development Andy Sharpe. "Our food safety team has designed an unprece-dented hygienic solution that fills a real need in the marketplace. Processors will find that with the new Ceres dryer, they will produce a better product, with greatly reduced downtime for cleaning, while using less factory floor space than they would typically need for the drying operation."

A number of sanitary innovations, including pitched floors and roofs, an integrated CIP system, a continuous belt washing system, comprehensive water management system and dozens of other hygienic design elements, combine to not only reduce the average cleaning downtime from 8 hours to 2 hours, but also significantly increase the effectiveness and ease of cleaning. Even with challenging products, the Ceres is able to be thoroughly cleaned in far less time than existing technologies, allowing processors to quickly change products without risk of cross contamination. Ceres also offers improved hygienic product contact surfaces, and reliable, lower risk components such as roller bearings and conveyor side guides constructed from FDA-approved non-metallic materials.

The Ceres dryer features a high velocity airflow unrivaled in current technologies. This means more production can be packed into a smaller footprint, reducing the need for valuable factory floor space.  It also combines the latest technologies with a carefully considered design to minimize utility costs. From the new direct drive fans, to internal baffles, air curtains, insulated doors, floors and roofs, every step of the product and air flow has been optimized to increase both operational and energy efficiency.

Construction materials and manufacturing processes have all been improved to produce a dryer that lowers the risk of contamination at every opportunity, from an open channel frame structure that eliminates tubes, to more hygienic welding technologies that reduce growth areas for contaminants. These factors and many more combine to create the very best in hygienic design for the drying of coated cereal products.

Bühler Aeroglide manufactures dryers, ovens, roasters, toasters, and hot air expansion systems for the food, feed and industrial product markets. Since 1940, the company has been providing innovations for a better world in the form of high-quality thermal processing equipment. As a business unit of Bühler, Aeroglide is headquartered in Cary, NC, and provides sales and service for its industry-leading equipment in more than 140 countries around the world. For more information about Bühler Aeroglide, call +1 919 851 2000, or visit www.buhlergroup.com/drying.

To view and download high resolution images of the new Ceres dryer - https://buhlergroup.picturepark.com/Go/78dnk1kw

For more information, please contact:
Nick Manley, Marketing Communications, Bühler Aeroglide, 100 Aeroglide Dr., Cary, NC USA
Phone +1 919 278 2864, Fax +1 919 851 6029, E-mail nick.manley@Bühlergroup.com