Product News: Safety & Security Equipment, Sensors, Monitors & Transducers, Green & Clean, Display & Presentation Equipment
Hybrid Lighting and Security System uses alternative energy.
Press Release Summary: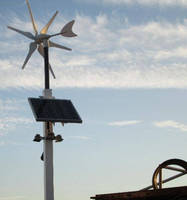 June 17, 2014 - With design powered by carbon fiber plastic wind turbine, solar panel, or stored power, Guard-Lite can be installed at any location without wiring or electrical permit. HD Wi-Fi Security Camera offers 2-way streaming audio and HD video, IR night vision, motion sensing, and alert notifications, while 3 LED lights with 6000K lamps deliver 900 lm each and last 60,000+ hr. With vinyl sleeve or powder coating, carbon steel mounting pole measures 4 x 4 in. and 14 ft 4" in. tall.
Original Press Release
New Hybrid Lighting and Security System Utilizes Alternative Energy Technology - Potentially Saving Consumers and Businesses Millions Of Dollars a Year
Press release date: June 5, 2014
Frank Pringle, CEO of Liberated Energy (http://liberatedenergyinc.com/) is available for interviews.

Liberated Energy, Inc. (OTCQB: LIBE) is excited to announce the Guard-Lite, a revolutionary hybrid lighting and security system. Its unique self-powered design enables it to be installed at any location without wiring or an electrical permit. With an increasing need for security and the demand for alternative energy growing, the Guard Lite provides a complete solution.

Included in the Guard-Lite package:

High Tech LED lighting - Utilizing the latest energy efficient technology with 6000°Kelvin lamps and 60,000hrs+ lifetime. This gives the best visibility with fewer lumens (3 LED lights/900 lumens each).

HD WiFI Security Camera - Featuring two way streaming audio and HD video. The camera has infrared night vision and motion sensing technology. Alerts can be sent to your Smart Phone, PC, Mac, or Tablet. Multiple cameras and users can be incorporated into the system.

Wind Turbine - High Efficiency Carbon Fiber Plastic. This unit produces 300watts at low wind speed. It's quiet, maintenance free with long lasting permanent magnet direct drive.

Electrical System - Safe, reliable and efficient DC power system with 24 hours of energy storage when there is no wind or solar.

Mounting Pole - Maintenance Free carbon steel with a vinyl sleeve or powder coated. The dimensions are 4" x 4" square and 14' 4" in height with a security base to prevent tampering.
Solar Panel - 100 watt output at 4.5 KWh/Day. This Unit produces excess energy of approximately 3.9 KWh per day. That energy can be sold back to the grid or used for other lights, additional cameras, battery charging ...etc.

SAMPLE QUESTIONS

How much money can consumers and business possibly save each year on energy using this technology?

What are some of the ways that your portable lighting & security systems can be used by business & consumers?

What are some of the environmental benefits of utilizing solar electricity over traditional fossil fuels?

How can Guard Lite be used to deter intruders BEFORE they enter a property?

For all interviews, please contact Ryan McCormick at 516-901-1103 / Ryan@goldmanmccormick.com