Hour Meters are vibration-activated.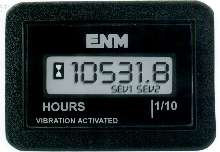 Hour Meters are vibration-activated.
March 1, 2004 - Series T54 Hour Meters are turned on by natural vibration of lawnmower, diesel engine, compressor, or any device that has some vibration. Attached with double-sided tape or other mounting options, units will measure total hours that device is running. Self-contained battery provides approximately 10 years of life. Meters are waterproof and sealed against shock and vibration.

(Archive News Story - Products mentioned in this Archive News Story may or may not be available from the manufacturer.)
Original Press release

ENM Company
5617 Northwest Hwy.
Chicago, IL, 60646 6135
USA


Vibration Activated Hour Meter
This unique hour meter is turned on by the natural vibration of a lawnmower, a diesel engine, a compressor, or any device that has some vibration.

It will measure the total hours that this device is on, for example, how many hours the lawnmower has been running. There is a self-contained battery, which gives it approximately ten-years worth of life.

It can be attached to a lawnmower with simple double-sided tape on the surface, or by several other mounting options.

Applications include diesel equipment, air compressors, electric motors, rental equipment, amusement park rides, go-carts, and construction machinery.

It is ideal for maintaining maintenance schedules for various devices and to keep track of the number of hours these devices have been running. These units are waterproof, and sealed against shock and vibration. They are easy to install, especially when there is no available power.

The T54 is priced at $25, shipping cost included for USA customers, when purchased through our website.

Data Sheet #675 for part numbers: T54A2 T54B2 T54C2

ENM has more data on these hour meters on our website: www.enmco.com
---
User comments about this story
Info re vibrating meters
Pleased information re your vibrating hour meters for small two wheel tractors. They MUST be able to fitted and removed easily for security; This is from Kenya
T B Muckle
By
T B Muckle on Apr 13, 2013 08:56
Reply to this comment


Start Your

Free


Subscription to


Industry Market Trends

.