Horizontal Baler fits in tight spaces.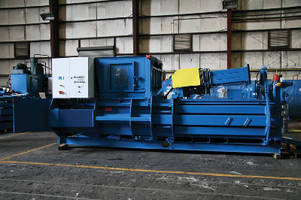 Horizontal Baler fits in tight spaces.
October 20, 2009 - Featuring 18 x 7 ft footprint, HLO 5443 offers baling cycle time of 7.6 sec using twin 25 hp motors. High volumetric displacement enables production rates up to 14 tons/hour. Economy mode shuts down one 25 hp motor to save energy, while rear access doors enable access to cylinders, and stamper automatically removes jams at shear knife. With max operating pressure of 3,000 psi and ram face pressure of 114 psi, baler is suited for processing OCC, ONP, PET, and plastics.

(Archive News Story - Products mentioned in this Archive News Story may or may not be available from the manufacturer.)
Original Press release

Harris
215 Market Rd, ste 1A
Tyrone, GA, 30290
USA



The New Horizontal Baler from Harris


Peachtree City, GA, Oct 15, 2009: Harris announces the new HLO 5443 horizontal baler. We listened to our customers and added a new horizontal machine to the Harris brand.
Made for tight spaces the surprisingly affordable Harris HLO 5443 baler's small foot print of 18' x 7' is perfect for many places where a traditional horizontal baler will not fit. Powerful for its size the HLO 5443 is energy friendly. The 50 HP model has an "economy mode" shutting down one of the twin 25 HP motors to save energy and save you money.

The HLO 5443 has a fast baling cycle time (dry cycle) of 7.6 sec with the twin 25 HP. The high volumetric displacement provides production rates up to 14 tons/hour (2 x 25HP). The max operating pressure is 3000 PSI and ram face pressure is 114 PSI. This HLO 5443 features include but are not limited to: high strength design and construction, rear access doors enable excellent accessibility to cylinders, the enclosed power unit reduces noise levels, and it has hinged wire tie inserters and twister units for easy access. You will also find a stamper to automatically remove jams at shear knife, a vertical tie system that provides superior bale stacking capability, further reduces the footprint and leaves no exposed wire pigtails on the sides.

Harris HLO 5443's large box opening can accommodate wider material and is perfect for processing OCC, ONP, PET and plastics, making it the ideal machine for distribution centers, small to medium MRFs and general recyclers. Check us out on youtube.com/HarrisEquipment or visit our website www.harrisequip.com

In business for 120 years as a worldwide leader in the design, manufacture and support of scrap processing, recycling and waste handling equipment and offers the most experienced, highly skilled team of scrap processing professionals and system design engineers. Power and Performance built with Tradition in mind. You can contact us at info@harris.com or 770-631-7290, 800-373-9131.

---