High Voltage Power Supplies promote design efficiency.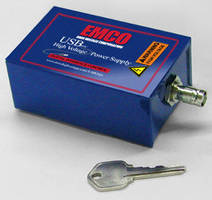 High Voltage Power Supplies promote design efficiency.
March 18, 2009 - Available in 5 programmable ranges from 0-200 to 0-2,000 V at 1 W of output power, USB-powered USBHV Series is suited for those experimenting or designing products requiring high voltage. Compact (2.3 x 3.6 in.) power supply, control software, and accessories provide total out-of-the-box connectivity. After operator enters desired output voltage on computer screen and clicks Enable, power supply is activated, and control software displays continuous read-back of generated voltage.

(Archive News Story - Products mentioned in this Archive News Story may or may not be available from the manufacturer.)
Original Press release

Emco High Voltage
11126 Ridge Rd.
Sutter Creek, CA, 95685
USA



New USB Powered Desktop High Voltage Power Supplies


A new, convenient high voltage research tool is now available from EMCO High Voltage Corp. The USBHV Series High Voltage Power Supply boasts unprecedented ease of use for engineers, scientists, and researchers experimenting or designing products requiring high voltage. Requiring only a USB cable to operate and power the unit, these new, small form-factor supplies bring an ease of operation to R&D with the same precision of large bench top power supplies, at a fraction of the cost.

Easy computer control of the high voltage is achieved via the supplied software for a wide range of high voltages. Included is a compact power supply, control software and accessories, providing all the connectivity needed right out of the box. After the control software has been installed on a Windows ģ compatible computer, the USBHV unit is "plug and play". The user simply enters the desired output voltage on the computer screen and clicks the enable button. The power supply is activated and the control software displays a continuous read-back of the generated high voltage. An LED on the power supply is illuminated when the high voltage is enabled. Units are available with programmable ranges of 0 to 200V, 0 to 500V, 0 to 1000V, 0 to 1250V and 0 to 2000 V at 1 Watt of output power. Positive and negative models are available.

Based on EMCO's proven analog-control regulation technology, coupled with a high-speed microcontroller and 12 bit digital resolution, the units provide excellent accuracy and regulation. The USBHV Series features digital interface control, ripple as low as 25 parts per million peak to peak, temperature coefficient of less than 25ppm/oC, precision output voltage monitor, 0 to 100% programmability, very low EMI/RFI emissions, arc and short circuit protection, and proprietary software which allows engineers to have a compact, USB ready, portable high voltage power supply at their finger tips. With a footprint less than 2.3" x 3.6" inches, these supplies are ideal for desktop or workbench. Call or email today for your own USBHV High Voltage Power Supply.

emcohighvoltage.com/USB.htm
sales@emcohighvoltage.com
800-546-3680

About EMCO High Voltage Corporation

EMCO's industry leading high voltage designs have garnered several product awards including: "Key Partner Award" from the University of Wisconsin for Project ICECUBE; "Most Innovative New Product of the Year" in the field of electrical engineering from the University of California, Davis;" Product of the Year" from Electronic Products Magazine; "Product Technology Award" from ECN Magazine; "Runner-Up Product of the Year" from Electronic Engineering Product News; six "Editors Choice" awards from Electronic Products Magazine, and the Governor of California's "Older Worker Recognition, Employer Excellence Award". EMCO provides an inventory of finished product at its headquarters in California and at its stocking distributor in Europe, Condatas AG.



---


Start Your

Free


Subscription to


Industry Market Trends

.