Product News: Materials & Material Processing
High-Strength Steel Plate targets lifting equipment industry.
Press Release Summary: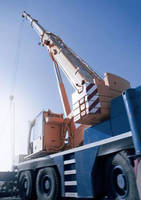 May 29, 2014 - Available from 8–12 mm, Optim 960 QL plate grade high-strength structural steel is intended for lifting equipment industry and crane manufacturers in particular. Plate and strip products fulfill requirements of corresponding standards EN 10149-2 and EN 10025-6+A1, and bendability exceeds standard with minimum bending radius of 3.5 x t in all directions.
Original Press Release
Ruukki's High Strength Steel Offering Expands - 960 QL Plate Available
Press release date: May 20, 2014
HELSINKI -- Ruukki's Optim portfolio of high-strength structural steels has been expanded with yet another new grade. Ruukki can now offer 960 QL plate grade to better serve especially the lifting equipment industry. Ruukki's offering for crane manufacturers now includes Optim QC 900 and 960 grades from strip mill in thicknesses from 3-10 mm and 960 QL plate from 8-12 mm. Both plate and strip products fulfil the requirements of the corresponding standards (EN 10149-2 and EN 10025-6+A1). The bendability of the 960 QL grades exceeds the standard - a minimum bending radius of 3.5 x t in all directions is guaranteed.

"Our product portfolio for lifting industry now covers customer demands more extensively. Our exceptionally good surface quality allows customers to have a superior look in their end product," says Tuomo Saramaa, Vice President, Sales, Asia, Pasific & Middle East at Ruukki Metals.

Ruukki is a leader in the development of high-strength special steels and has been manufacturing Optim high-strength steels since 2002. Ruukki's manufacturing programme includes the thinnest ultra-high-strength structural steels on the market. The benefit of Ruukki's innovative Optim QC grades up to 1100 in thin gauges is their exceptionally good surface quality, flatness and thickness accuracy from one batch to another. This gives crane manufacturers a competitive advantage. Ruukki also provides local technical and application support to help customers to get the most out of using special steels. Prompt and reliable deliveries are guaranteed by an extensive distribution and dealer network across some 30 countries.

Ruukki specialises in steel and steel construction. We provide customers with energy-efficient steel solutions for better living, working and moving. We have around 8,600 employees and an extensive distribution and dealer network across some 30 countries including the Nordic countries, Russia and elsewhere in Europe and the emerging markets, such as India, China and South America. Net sales in 2013 totalled EUR2.4 billion.

The company's share is quoted on NASDAQ OMX Helsinki (Rautaruukki Oyj: RTRKS).
http://www.ruukki.com

For additional information please contact:
Tuomo Saramaa
Vice President, Sales
Asia, Pasific & Middle East
Ruukki Metals
tel. +86-21-66-734558