Product News: Transportation Industry Products, Electronic Components & Devices
High-Side Switch ICs target smart automotive electronics.
Press Release Summary: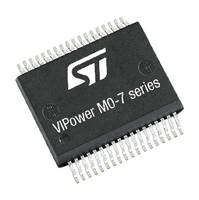 January 18, 2013 - Combining power MOSFET as main electronically controlled switch, with logic, control, and sensing circuitry in single package, M0-7 Series is intended for vehicle electronics such as lights and body modules. ICs provide precise load-current, voltage, and temperature-monitor feedback as well as power-limitation and over-temperature latch-off, flexible fault-reset management, and reverse-polarity protection. Full range of package types will include PowerSSO-16, PowerSSO-36, Octapak, and SO-8.
Original Press Release
STMicroelectronics Introduces Next-Generation Technology for Smaller, Smarter Automotive Electronics
Press release date: January 15, 2013
Latest intelligent high-side switches set new standards in miniaturization and precision, leveraging package commonality for flexibility and scalability

Geneva, – STMicroelectronics (NYSE: STM), a global semiconductor leader serving customers across the spectrum of electronics applications and a top supplier of automotive semiconductors, has revealed the latest generation of its pace-setting switch ICs for vehicle electronics such as lights and body modules. The new devices provide enhanced intelligent features, improve protection and reliability, and are up to 40% smaller than competing alternatives.

Pioneered by ST, intelligent high-side switches provide a more reliable and efficient replacement for conventional relays. For several generations, ST's VIPower family has offered advantages such as a common package style for many devices in the range. This allows tier-one suppliers to build several module variants using the same basic hardware and software so car makers can address differing requirements in international markets and offer various model specifications and options cost-effectively. The common-package approach has become widely adopted among high-side switch vendors.

In the seventh generation of ST's VIPower family, the M0-7 series announced today, 75% of family members are available in a 5 x 4mm package, which is 40% smaller than the smallest competing devices. This allows car electronics designers to save pc-board space and aim for smaller module sizes. Moreover, various internal design changes increase precision, enhance diagnostic feedback, and improve reliability. Specifically, performance improvements include greater protection against short circuits, more accurate voltage and temperature feedback, increased current-sense precision, and best-in-class electromagnetic emission (EMI) performance.

Samples of all family members are available now. The first device to enter production will be the dual-channel VND7020AJ-E, in Q2 2013, priced from $1.10 for orders over 1,000 pieces. The full range of package types available across the new family will include PowerSSO-16, PowerSSO-36, Octapak, and SO-8.

Major features of M0-7 series:
• Precise load-current, voltage and temperature-monitor feedback
• Integrated sense multiplexer
• Power-limitation and over-temperature latch-off
• Bulb / LED mode (quad channel)
• Flexible fault-reset management
• Reverse-polarity protection
• Full on- and off-state diagnostics capability
• Ultra-low quiescent current

Background to Automotive High-Side Switches
The intelligent high-side switch has an important role in the development of advanced automotive electronics. It combines a power MOSFET as the main electronically controlled switch, with logic, control and sensing circuitry in a single package. It is connected between a microprocessor and loads such as lights, motors, heaters or valves, allowing the microprocessor to control the loads in response to inputs such as dashboard switches or sensors, as well as information from the intelligent circuitry in the high-side switch.  The sensors may be ambient-light sensors, rain sensors, cabin-temperature sensors, wheel-speed sensors or others depending on the type of subsystem.

By integrating sensing, control and logic circuitry, the intelligent high-side switch is able to operate reliably with different types of loads, such as highly inductive loads like motors, or resistive loads like heaters. Moreover, these intelligent features allow the switch to perform many functions without intervention from the microprocessor, which helps engineers simplify software and utilize processor resources efficiently. Built-in protection against conditions such as over-voltage, over-temperature and open or short circuits helps prevent damage to subsystems, modules or wiring, and allows the switch to restart when safe.

Since it is specially designed to operate on the high side of the load, connected directly to the battery voltage, the high-side switch allows the negative terminal of the load to be connected directly to the vehicle chassis. This cuts significant cost and weight from the vehicle by reducing wiring and connectors.

About STMicroelectronics
ST is a global leader in the semiconductor market serving customers across the spectrum of sense and power and automotive products and embedded processing solutions. From energy management and savings to trust and data security, from healthcare and wellness to smart consumer devices, in the home, car and office, at work and at play, ST is found everywhere microelectronics make a positive and innovative contribution to people's life. By getting more from technology to get more from life, ST stands for life.augmented.

In 2011, the Company's net revenues were $9.73 billion. Further information on ST can be found at www.st.com.

For Press Information Contact:
STMicroelectronics
Michael Markowitz
Director Technical Media Relations
+1 781 591 0354
michael.markowitz@st.com