Product News: Electronic Components & Devices
High Power TVS Diodes suit AC and DC power line applications.
Press Release Summary: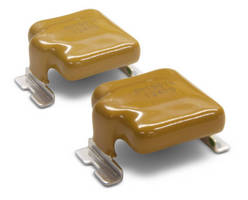 February 4, 2014 - With respective standoff voltage ratings of 58 and 76 V, Bourns® Models PTVS15-058C-SH and PTVS15-076C-SH feature high current bidirectional port protection meeting IEC 61000-4-5 8/20 µs current surge requirements. SMD package lends to reduced peak clamping voltage due to degree of lead inductance, reducing electrical stress on protected circuitry. Providing surge current protection with peak pulse current rating of 15 kA, RoHS-compliant products offer max surge current rating at 25°C.
Original Press Release
Bourns Announces New High Power TVS Diodes for AC and DC Power Line Applications
Press release date: January 28, 2014
New Products Feature High Current Bidirectional Port Protection that Meets IEC 61000-4-5 8/20 µs Surge Requirements

RIVERSIDE, Calif. — Bourns, Inc., a leading manufacturer and supplier of electronic components, today announced the introduction of new high Power TVS diode models in SMD packaging for use in AC and DC power line applications. The new models feature high current bidirectional port protection meeting IEC 61000-4-5 8/20 µs current surge requirements and are RoHS* compliant. Designated Bourns® Models PTVS15-058C-SH and PTVS15-076C-SH, these Power TVS diodes offer enhanced performance stability and increased reliability. Designed using advanced silicon technology Bourns' new devices deliver lower clamping voltage under surge compared to Metal Oxide Varistor (MOV) technology. The SMD package provides a 20% reduction in peak clamping voltage compared to an equivalent through-hole device because of its lower lead inductance. The result is reduced electrical stress on the protected circuitry. Additionally, the SMD package simplifies assembly and can reduce costs by eliminating the extra design requirements in cases where the Power TVS diode is the only through-hole component on the printed circuit board.

"Bourns' Power TVS diodes are becoming increasingly popular because they provide robust circuit protection against power line surges and indirect lightning strikes in AC and DC power supplies used in telecom and other exposed applications," said Ben Huang, Semiconductor Product Line Manager at Bourns, Inc. "We designed these new models with specific packaging technology giving our customers the benefit of a highly reliable solution that meets the growing protection demands of today's high power applications."

Bourns' new Power TVS diode models also exhibit an excellent surge response versus temperature, with a maximum surge current rating at 150 °C, which is 70% of their rated value at 25 °C. Both models provide very high surge current protection with a peak pulse current rating of 15 kA. The Bourns® Model PTVS15-058C-SH features a 58 V standoff voltage and the Bourns® model PTVS15-076C-SH has a 76 V standoff voltage.

Pricing and Availability
As a pricing reference, the Bourns® models PTVS15-058C-SH and PTVS15-076C-SH are priced at $19.70 each in 10 piece quantities and $17.50 each in 500 piece quantities respectively. Both models are available now. For additional product specifications, please go to: http://www.bourns.com/data/global/pdfs/PTVS15-SH.pdf.

About Bourns
Bourns, Inc. is a leading manufacturer and supplier of automotive sensors, circuit protection solutions, magnetic products, microelectronic modules, trimming and precision potentiometers, panel controls and encoders and resistive products. Headquartered in Riverside, CA, Bourns serves a broad range of markets, including telecommunications, computer, industrial, instrumentation, automotive, consumer, non-critical life support medical, audio and various other market segments. Bourns® products are manufactured according to ISO-9000 and ISO-14001 standards under Six Sigma quality programs. Additional company and product information is available at the company's website at www.bourns.com.

*RoHs Directive 2002/95/EC Jan. 27, 2003 including annex and RoHS Recast 2011/65/EU June 8, 2011.

Bourns® and the Bourns logo are registered trademarks of Bourns, Inc. and may be used only with the permission of Bourns and proper acknowledgement. Other listed names and brands are trademarks or registered trademarks of their respective owners.

Kelli Crimins
Keller Communication
949.481.6218 Tel
949.246.4410 Cell