Product News: Machinery & Machining Tools
Helical Gear Shaping Machine is fully NC-programmable.
Press Release Summary: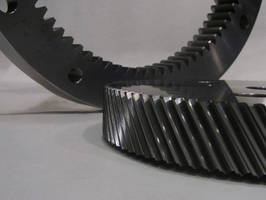 September 17, 2013 - Capable of cutting diverse selection of gears, including helical and cluster gears, ST40A applies NC programming technology to relieving motion that prevents interference between cutter and workpiece. Helical guide is not required for each workpiece, and all 7 axes are fully NC-programmable. This accommodates precision cutting applications such as crowning and tapering. Other features include operating speed from 30–600 strokes/min and tapering capabilities up to 0.3° without tilt table.
Mitsubishi Heavy Industries America
Original Press Release
MHI Launches Totally Upgraded "ST40A" Helical Gear Shaping Machine, Achieving Japan's First Fully NC-Programmable 7-Axis System
Press release date: September 13, 2013
Mitsubishi Heavy Industries, Ltd. (MHI) has completed the development of a new gear shaping machine, the ST40A, capable of cutting a broad array of gears, including helical and cluster gears, with one system. The ST40A's significantly expanded range of cutting applications derives from the first application in Japan of NC programming technology to the relieving motion that prevents interference between the cutter and the workpiece. The new offering will make its international debut in the United States with a live demonstration of its capabilities at Gear Expo 2013, to take place in Indianapolis, Indiana, on September 17-19. The company intends to market the ST40A for a wide spectrum of gear cutting applications for various products including automobiles, construction machinery and aircraft.

Click here for details
http://www.mhi.co.jp/en/news/story/1309121712.html

Hideo Ikuno
Media Relation Manager
DAIYA PR CO., LTD.
Mitsubishi Juko Bldg.
16-5, Konan 2-chome, Minato-ku, Tokyo 108-0075, JAPAN
Phone: +81-3-6716-5277, Fax: +81-3-6716-5929
E-mail: h.ikuno@daiya-pr.co.jp