Product News: Portable Tools
Heat Gun offers extender accessory.
Press Release Summary: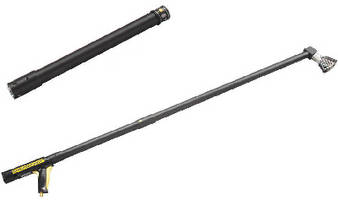 July 18, 2014 - For shrink wrapping projects that call for long reach, Shrinkfast 998 Heat Gun is available with Shrinkfast 2' X-Tender accessory. Straight extender offers pushbutton installation and enables users to add another 2 ft of length to existing 2, 4, and 6 ft extensions. Delivering 212,000 BTUs of power, gun has ergonomic design with fan-shaped combustor for even and steady heat pattern.
Original Press Release
New Heat Tool Accessory Helps Extend Reach
Press release date: July 14, 2014
Many shrink wrapping projects call for a long reach. To better facilitate this, Dr. Shrink offers the new Shrinkfast 2' X-Tender. With this accessory, users can add another 2' of length to existing 2', 4' and 6' Shrinkfast 998 extensions.

With a simple push button installation, the straight X-Tender can be attached to the end of a 6' extension to lengthen the reach to an impressive 8'. Now, users have numerous extension options for even the toughest shrink wrapping jobs.

The Shrinkfast 2' X-Tender from Dr. Shrink has a price of $310.

The Shrinkfast 998 heat gun delivers 212,000 BTUs of power. Its ergonomic design and fan-shaped combustor offer an even and steady heat pattern to assist in almost any shrink wrapping project.

Dr. Shrink, Inc. is a full-service, full-circle supplier of premium shrink wrap and all installation supplies and accessories. With shrink wrap immediately available in widths from 12'-60', the Doctor also offers strapping, tape, zipper access doors and venting.

Contact Dr. Shrink, 315 Washington St., Manistee, MI 49660. 800-968-5147; Fax: 231-723-9586. drshrink@dr-shrink.com;
www.dr-shrink.com.