Product News: Optics & Photonics
Hard Sapphire Windows protect sensors/cameras from particulate.
Press Release Summary: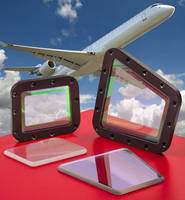 April 30, 2014 - Providing protective surface for sensors and cameras exposed to high-speed particulates, custom Meller Sapphire Windows are as clear as glass and exhibit Moh 9 hardness. Various configurations and sizes up to 10 in. dia are possible depending on diameter to thickness aspect ratio. Featuring transmission from UV to IR (270 nm to 4.7 microns), windows offer flatness to 1/10th wave in Vis and < 2 arc sec in./in. parallelism with finishes from 60–40 to 40–20 scratch-dig. Domes are also available.
Original Press Release
Sapphire Windows Protect against High Speed Particulates
Press release date: April 22, 2014
Custom fabricated sapphire windows for installation on the outboard of manned and unmanned aircraft and underwater vehicles to protect sensors and cameras have been introduced by Meller Optics, Inc. of Providence, RI.

Meller Sapphire Windows are clear as glass and exhibit Moh 9 hardness which is second only to diamond, providing a protective surface for sensors and cameras that would be exposed to sand and other high speed particulates.  They can be custom fabricated in different configurations and sizes up to 10" dia., depending upon the diameter to thickness aspect ratio.

Featuring transmission from the UV to IR (270 nm to 4.7 microns), Meller Sapphire Windows offer flatness to 1/10th wave in the visible and < 2="" arc="" sec.="" in/in.="" parallelism,="" with="" finishes="" from="" 60-40="" to="" 40-20="" scratch-dig,="" depending="" upon="" size="" and="" construction. ="" sapphire="" domes="" are="" also="">
for missiles and weaponry in military applications.

Meller Sapphire Windows are priced according to configuration and quantity. Literature and price quotations are available upon request.

For more information contact:

Meller Optics, Inc.
Steve Lydon, Marketing
120 Corliss St. / P.O. Box 6001
Providence, RI 02940
(800)  821-0180  
FAX (401) 331-0519
e-mail: steve@melleroptics.com
www.melleroptics.com