Handheld Document Scanner can be recharged within minutes.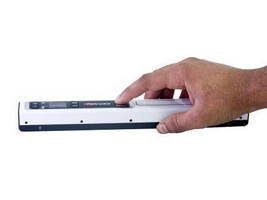 Handheld Document Scanner can be recharged within minutes.
March 7, 2013 - Able to scan 1,200 pages per charge of 700 mAh Lithium Polymer Battery, 10.5 x 1.1 x 1.2 in. Scanny 5 accommodates documents up to 4+ ft long and ~8.5 in. wide. Respective scanning speeds for monochrome and color are 2 and 3 sec at 300 dpi, 6 and 8 sec at 600 dpi, and 10 and 12 sec at 900 dpi. Scan output can be in JPEG or PDF format, and bundled ABBY software allows conversion of image to Word and Excel files. USB 2.0 port is standard, and MicroSD/MicroSDHC cards up to 32 GB are supported.

Original Press release

Portronics
LG 57, World Trade Center Babar Road Connaught Place
New Delhi, , 110001
India



Scan Anytime, Anywhere with Portronics "Scanny 5"


New Delhi: Portronics, a leader in portable and digital devices, has launched a rechargeable scanner- Scanny 5. After launching a series of portable scanners -Scanny 1, 2, 3 and 4- Portronics presents the 5th scanner in the series– Scanny 5. With the rechargeable battery incorporation, scanning would never become a problem for a Portronics user. In one charge, Scanny 5 can scan 1200 pages and can easily be charged through the AC plug within a few minutes. With Scanny 5, you can scan a document of more than 4 feet in length and width of an A4 page at a time.

The white-coloured Scanny 5 is simple yet classy in its look with a rectangular shape. It weighs just 190 gms and is easy to carry on your business trips.  It is lightweight but has a robust design in terms of usability.Scanny 5 gives the option to vary the scan quality depending on the requirements; ranging from 300 DPI to 900 DPI. The added feature to Scanny 5 is the option to receive the scan output in either the JPEG or the PDF format.

Scanny 5 comes bundled with ABBY software that converts the PDF/JPG image to Word and Excel files.

Specifications  
• Resolution: 300 DPI
- 600 DPI
- 900 DPI
• External Memory: Supports MicroSD / MicroSDHC cards up to 32GB (not included)
• Scanning speed:
- High resolution (900 DPI) colour = 12 seconds
- High resolution (900 DPI) mono = 10 seconds
- Medium resolution (600 DPI) colour = 8 seconds
- Medium resolution (600 DPI) mono = 6 seconds
- Low resolution (300 DPI) colour = 3 seconds
- Low resolution (300 DPI) mono = 2 seconds
• File Format: JPG/PDF
• Approx scan width: 8.5"
• USB Port: USB 2.0 High Speed
• Power source: 700 mAh Lithium Polymer Battery
• Approximate Scans: 1200 Scans in one charge
• Dimensions: 10.5" x 1.1" x 1.2"
• Weight: 190 gm
• Compatibility: Windows® XP, Windows® Vista™, Windows® 7, Mac OS® 10.4 or above
• Accessories: User's manual, USB cable, Pouch, Cleaning cloth, Calibration paper
• OCR: ABBY OCR Software CD (compatible with PC only)

Pricing and Availability:The pricing is 6,999 INR and is available across India

About Portronics India: Portronics India, deals in innovative, portable and digital devices that improve the efficiency and effectiveness of enterprises and individuals. With a PAN India presence, Portronics is committed to deliver its products anywhere in India. The sole provider of superior portable Digital innovative solutions serving both the Retail and the Enterprise segments, Portronics aims to fulfil the need of every customer by providing innovative and elegant digital solutions, outstanding customer service, increased flexibility, and greater value and thus optimizing system functionality and improving operation efficiency. For more information please visit http://www.portronics.com/

---


Start Your

Free


Subscription to


Industry Market Trends

.