Product News: Test & Measuring Instruments
Handheld Analayzer provides QC tool for folding carton industry.
Press Release Summary: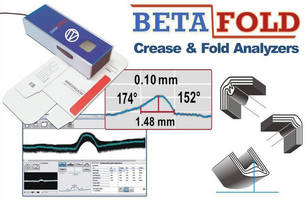 June 19, 2014 - Used for real-time production and setup correction, BetaFold Crease & Fold Analyzer minimizes uncontrolled variations in process that cause unusable product rejects. Portable product, through software and hardware, captures and analyzes images of crease and automatically displays, analyzes, and records data for real-time production corrections, documentation, and report generation. Operator needs to only click once for each critical analysis.
Original Press Release
BetaFold Crease & Fold Analyzer, the FIRST Quality Control Tool for the Folding Carton Industry
Press release date: May 1, 2014
Beta Industries introduces the BetaFold Crease & Fold Analyzer, the FIRST Quality Control Tool for the Folding Carton Industry. Until now, the largest sector of the packaging industry hasn't had the benefit of process control devices/analyzers for the production operator commonly found in other segments of the printing industry.

The New BetaFold Crease & Fold Analyzer is handheld and portable for real time production and setup correction to minimize uncontrolled variations in the process that cause potentially expensive, unusable product rejects while insuring more consistent usable product.

The BetaFold Crease & Fold Analyzer's user friendly software/hardware captures and analyzes images of the crease and automatically displays, analyzes, and records the data for real time production corrections, documentation and report generation. The operator needs only one click for each critical analysis. Statistics are automatically calculated while reports are generated for documentation and process control.

The BetaFold Crease & Fold Analyzer measures, analyzes, documents the dimensions, angles, and symmetry of the crease and bead and documents the all important detail information for production correction, package design, material and process evaluation, as well as machine make-ready for more profitable carton production.

Measure bead and crease dimensions, folding angle, cut-score penetration, counter channel depth and width, embossing, debossing and more.

Detect errors in registration and tool alignment, changes in die penetration due to knife wear, inconsistent impression due to die and counter wear and more.

Create illustrated production reports with statistics and graphs.

Available through Beta's 10-Day Free Trial Policy.

BETA INDUSTRIES – THE QUALITY CONTROL COMPANY
707 COMMERCIAL AVE.
CARLSTADT, NJ 07072 USA
201-939-2400
800-272-7336
FAX 201-939-7656
www.betascreen.com

MEDIA CONTACT:
Stuart Serchuk
Email: stuarts@betascreen.com