Product News: Electrical Equipment & Systems
Hand Crank Generator powers electronics during emergencies.
Press Release Summary: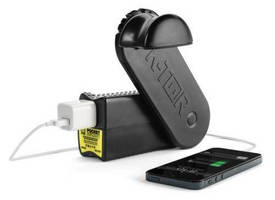 May 28, 2013 - Pocket Socket 2 is human-powered generator that provides backup energy and emergency power to devices such as smartphones, tablets, GPS equipment, handheld radios, digital cameras, and medical equipment. Featuring standard outlet interface, product acts as 120 V power source. Device has yellow label and rubber band to identify use in emergency situations. It is manufactured with polycarbonate plastic grip and optimized power train and electronics.
Original Press Release
K-TOR® Announces Pocket Socket 2 Hand Crank Generator
Press release date: May 16, 2013
COLCHESTER, VT – K-TOR, LLC, designer and manufacturer of portable power generators, announced today the release of their second-generation Pocket Socket hand crank generator, the Pocket Socket 2.  This affordable human powered generator features a standard outlet interface, which provides backup energy and emergency power to a wide range of electronic devices.

A more than 120% increase in blackouts annually in the US in recent decades has left more and more Americans looking for a backup power supply when the grid goes down. The patented technology inside the Pocket Socket 2 and all K-TOR portable generators enable the efficient conversion of human energy into a 120 Volt power source.

Communication equipment and medical equipment are some of the most important items to keep running during emergency and off-grid situations.  The Pocket Socket 2 can charge smartphones, tablets, GPS equipment, handheld radios, digital cameras, medical equipment and much more.  From the jungles of the Amazon to the street of New York City the Pocket Socket 2 supplies critical power to electronic devices when they need it most.

"The Pocket Socket has been a successful product for K-TOR," comments K-TOR founder Ken Torino, "We have customers all over the world using our hand crank generator in a wide range of environments and it's been fascinating to witness the places our products have been and the purposes they've served."

The Pocket Socket 2 retails for $64.95 online and is available online at www.k-tor.com. The new unit incorporates the learning from long term testing and customer feedback since the launch of the original K-TOR Pocket Socket. New packaging, labels, materials, and molded grips are just a few of the updates that have been made to the second generation Pocket Socket.

A yellow color scheme for the label and rubber band match the primary use of this product in emergency situations. Also visible to the customer, the plastic surface has been patterned to make it easier to grip. Other, less visible, updates include a newer stronger polycarbonate plastic, a stronger power train and improved electronics.

K-TOR believes no one should have to be without access to electricity.  As a result they have developed a patented technology that efficiently converts human bio-mechanical energy into a 120 volt electrical power source.  Their hand crank generators are the first products in a line of human energy generators.  Highly anticipated is K-TOR's pedal power generator, which will be released later this year.

Contact:
Ken Torino
802-777-6229

SOURCE 
K-TOR, LLC

Web Site: http://www.k-tor.com