HMI System handles latest process control systems.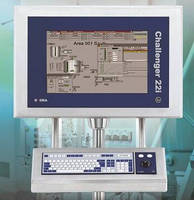 HMI System handles latest process control systems.
April 18, 2012 - Suited for use in hazardous areas, MTL GeCma Challenger 221 offers 22 in. color display with 1,680 x 1,050 pixel resolution and 16:10 aspect ratio for process control systems that require high resolution and wide screen to display all their information. Resistive touch screen option is available for operation where protective clothing and gloves are necessary. Up to 4 Challenger terminals can be cascaded to one PC, and modular construction with durable finish has IP66 rating.

(Archive News Story - Products mentioned in this Archive News Story may or may not be available from the manufacturer.)
Original Press release

The MTL Instruments Group PLC
9 Merrill Industrial Dr.
Hampton, NH, 03842
USA



Finally, a Screen that can Handle the Latest Process Control Systems: the MTL Gecma 22" HMI System


HOUSTON - The MTL GeCma Challenger HMI system is the industry standard in visualization systems for hazardous areas. Now, the Challenger offers a 22" display for Process Control Systems that require high resolution and widescreen to display all their information for better process control.

The Challenger 221 is offered both as a new unit and a replacement unit for GeCma systems. It delivers true 22" color display with resolution of 1680x1050 pixels and an aspect ratio of 16:10. It is available with a resistive touch screen option for operation where protective clothing and gloves are a necessity. With more than 15,000 units installed worldwide, some running in hazardous environments for over 10years, the Challenger system features:

Intrinsically Safe (IS) data transmission between safe and hazardous areas

"Hot swap" capabilities that allow the use to maintain, modify and move the unit with the process running

Strong modular construction and durable finish with an IP 66 rating

Cascade up to four Challenger terminals to one PC

Low installation costs

If you are already a GeCma Challenger user, upgrade your display to widescreen while keeping your support infrastructure in place.

For more information, visit www.mtl-inst.com or email csinfo@mtl-inst.com.

About MTL
MTL Instruments, a business unit of Cooper Crouse-Hinds, is a world leader in the development and supply of electronic instrumentation and protection equipment for the process control and telecommunications industries. Many of the world's most critical processes are monitored, controlled or protected by MTL equipment and the Group is distinguished by the quality and reliability of its products, its global network of sales-and-support centers and its acknowledged position as a thought-leader in this high technology marketplace. With 20 dedicated sales centers in 13 countries and a further 131 MTL representatives in 69 countries, MTL's expertise in Intrinsic Safety, Industrial Networks, Surge Protection and Operator Displays/HMI is unsurpassed.

About Cooper Crouse-Hinds
Headquartered in Syracuse, N.Y., Cooper Crouse-Hinds is a subsidiary of Cooper Industries plc (NYSE: CBE) that integrates a comprehensive line of electrical and instrumentation products with expert support, industry insights and local availability, engineering safety and productivity in the most demanding industrial and commercial environments worldwide. Cooper Crouse-Hinds manufactures over 100,000 products, including conduit and cable fittings; enclosures; plugs and receptacles; industrial lighting fixtures; signals and alarms; controls and electrical apparatus; commercial outlet boxes and hubs; and electronic components and protection equipment for process control branded MTL Instruments Group. Cooper Crouse-Hinds products are sold worldwide and meet all local and international code requirements. They are used in general construction or in harsh and hazardous environments across the globe, performing to the highest standard of safety and reliability. For more information, visit www.crouse-hinds.com.

About Cooper Industries
Cooper Industries plc (NYSE: CBE) is a global electrical products manufacturer with 2011 revenues of $5.4 billion. Founded in 1833 Cooper's sustained success is attributable to a constant focus on innovation and evolving business practices, while maintaining the highest ethical standards and meeting customer needs. The Company has seven operating divisions with leading market positions and world-class products and brands, including Bussmann electrical and electronic fuses; Crouse-Hinds and CEAG explosion-proof electrical equipment; Halo and Metalux lighting fixtures; and Kyle and McGraw-Edison power systems products. With this broad range of products, Cooper is uniquely positioned for several long-term growth trends including the global infrastructure build-out, the need to improve the reliability and productivity of the electric grid, the demand for higher energy-efficient products and the need for improved electrical safety. In 2011 fifty-nine percent of total sales were to customers in the industrial and utility end-markets and forty percent of total sales were to customers outside the United States. Cooper has manufacturing facilities in 24 countries as of 2011. For more information, visit the website at www.cooperindustries.com.

---


Start Your

Free


Subscription to


Industry Market Trends

.