Product News: Controls & Controllers
HMI Operator Panel Families range from compact to complex.
Press Release Summary: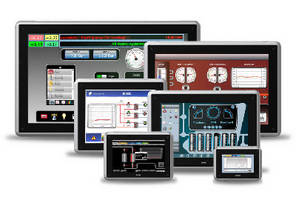 May 11, 2012 - Built with aluminum housing and IP-rated sealing, HMI Operator Panels comes in display sizes from 4-21 in. and are based on 3 different CPUs. TxA models run on ARM9 CPU and are suited for small and medium-sized applications, while mid-range TxB models, running on Intel® Atom CPU, deliver performance suitable for medium to large HMI applications. Built on Intel® iCore CPU, TxC series delivers wide range of connectivity options for large projects.
Original Press Release
Consistent HMI from Compact to Complex
Press release date: May 9, 2012
Beijer Electronics now launches several new operator panel models in three integrated families, completing their offering of panels for every application in terms of performance and display size. From basic to complex applications, customers can now choose a consistent panel design and easily scale HMI projects between them. The new operator panels are optimized for the upgraded HMI software iX 2.0.
Hardware and software made for each other
Designed and built with aluminum housing, IP-rated sealing and quality components, Beijer Electronics' new operator panels are robust and ensure reliable operation based on the iX software. All models come with a comprehensive list of drivers, enabling connectivity to most equipment from all major vendors.
Performance levels to suit any needs
Beijer Electronics' new HMI solution comes in display sizes from four to 21 inches, built on three different CPUs to offer a competitive solution for every type of application. The smaller TxA models run on an ARM9 CPU and offer a highly cost-efficient solution with solid HMI functionality for small and medium-sized applications. The mid-range TxB models, running on the powerful Intel® Atom CPU, deliver high performance suitable for medium to large HMI applications, requiring handling of more data and utilizing more functionality. With the TxC series, built on the Intel® iCore CPU, Beijer Electronics takes HMI to the industrial PC level, delivering a wide range of connectivity options and high performance for larger projects. All models feature high-resolution displays, several in wide screen format and the largest model, the 21-inch TxC, even supports full HD.
The fastest way from idea to application
Beijer Electronics' new generation HMI software, iX 2.0, and new families of operator panels constitute the company's market-driven concept HMI at the speed of thought, which focuses on minimizing the distance between the HMI idea and the fully deployable, intuitive, application. The development software has a familiar Windows® based environment and offers refined engineering tools and improved ribbon menu, all of which ensure substantial time gains for project developers.
About Beijer Electronics
Beijer Electronics is a fast growing technology company with extensive experience of industrial automation and data communication. The company develops and markets competitive products and solutions that focus on the user. Since its start-up in 1981, Beijer Electronics has evolved into a multinational group present in 21 countries and sales of 1,400 MSEK 2011. The company is listed on the NASDAQ OMX Nordic Stockholm Small Cap list under the ticker BELE.
Beijer Electronics is a fast growing technology company with extensive experience of industrial automationand data communication. The company develops and markets competitive products and solutions that focus on the user. Since its start-up in 1981, Beijer Electronics has evolved into a multinational group present in 16 countries and sales of 1,200 MSEK 2010. The company is listed on the NASDAQ OMX Nordic Exchange Stockholm Small Cap list under the ticker BELE. www.beijerelectronics.se