HD Network Cameras employ 1/3 in. CMOS imager.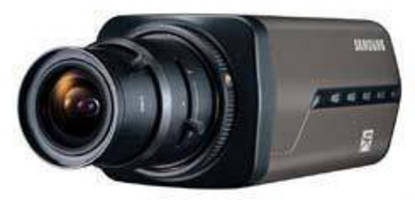 HD Network Cameras employ 1/3 in. CMOS imager.
March 29, 2010 - In addition to intelligent video analytics, 1.3 megapixel PoE-enabled cameras feature WiseNet DSP for optimal image quality and progressive scan technology for noiseless capture of moving objects. HD network box camera (SNB-5000) and SMT dome camera (SNB-5080) enable multi-stream encoding of H.264, MPEG4, and MJPEG images simultaneously at various resolutions and frame rates. Along with various image enhancement technologies, cameras support automatic switching between Day/Night mode.

(Archive News Story - Products mentioned in this Archive News Story may or may not be available from the manufacturer.)
Original Press release

Samsung Techwin America
1480 Charles Willard St
Carson, CA, 90746
USA



Samsung Introduces 1.3 Megapixel HD Network Camera Series


1/3-In. CMOS Imager And WiseNET DSP Technology Produce HD-Quality Images.

Las Vegas, NV - Samsung Techwin America, a global supplier of video surveillance products combining superior performance and value, is featuring a new series of 1.3 megapixel HD network cameras here at ISC West. The megapixel cameras incorporate Samsung's WiseNet Digital Signal Processing (DSP) for superior megapixel image quality; the latest 1/3-inch CMOS imager for improved sensitivity and image quality; progressive scan technology for noiseless, high-quality capture of moving objects; and intelligent video analytics. The cameras also enable multi-stream encoding of H.264, MPEG4 and MJPEG images simultaneously at various resolutions and frame rates, and support 16:9 HD (1280x720p) images at 30 frames-per-second with a maximum resolution of 1280x1024 (SXGA) at 22 fps. Conformance to Microsoft Silverlight also ensures compatibility with Microsoft and Apple platforms.

"We are proud to compare the performance and value of Samsung's new megapixel network cameras up against anything on the market," said Frank DeFina, Senior Vice President of Sales and Marketing, North America. "The overall functionality and value of these new megapixel cameras demonstrates Samsung's attention to performance, quality and added cost efficiency."

Samsung's WiseNet DSP delivers superb image quality and incorporates Samsung Super Dynamic Range (SSDR) technology to increase the level of visible detail in dark areas while maintaining image clarity and detail in the brighter parts of an image. Samsung Super Noise Reduction III (SSNR) is third generation of noise reduction technology combining adaptive 2D and 3D filters for less noise and motion blur even in low light. HLC (Highlight Compensation) reverses bright spots in an image (such as headlights) to improve the overall detail.

The new SNB-5000 is a 1.3 megapixel HD network box camera, and the SNB-5080 is a surface-mount dome camera with a built-in 2.8-10mm vari-focal mega lens. It offers in-ceiling surface mounting, surface mounting with side cabling, and wall, flush (SND-5080F) or pendant mounting. The SNV-5080 is an outdoor dome camera with an IP66-rated enclosure and a built-in fan/heater. The SND-5010 has a flat-dome design and a built-in 3mm fixed mega lens. The camera is also available in an IP66-rated weatherproof version (SNV-5010), which will be available in July of 2010.

Samsung 1.3 megapixel HD network cameras provide clearer and crisper images in low light, with an IR Cut Filter that further boosts functionality in low light, automatic switching from Day (color) mode to Night (black-and-white) mode with a minimum illumination of only 0.3 lux at 50 IRE.

Built-in intelligent video analytics identify items missing or appearing in a defined area or in the entire frame, virtual line crossings, entering or exiting a defined area, and scene change (tampering) detection. Interference in a camera's view, a manual change in the camera's angle, or removal or blockage of the camera can produce an alarm, which can trigger actions such as recording onto an SD memory card, sending an e-mail notification, notifying a video management system, or triggering an alarm output device.

As a full member of the Open Network Video Interface Forum, Samsung HD Megapixel Cameras conform to ONVIF specifications. Bi-directional audio communication between the camera and monitoring sites uses G.711 audio compression format. Power-over-Ethernet (PoE) provides easy, cost-effective power to the camera without needing power outlets or separate electrical cabling. Ethernet and BNC connections enable streaming across an IP network or via existing analog/coax equipment. A built-in SD/SDHC card slot provides local recording and stores event recording with no external equipment.

For more information visit www.samsungsecurityusa.com.

About Samsung Techwin America
Samsung is a leading supplier of advanced video surveillance solutions for IP-video, analog and hybrid systems. Building on the company's history of innovation, Samsung Security Systems is dedicated to providing systems solutions with the highest levels of performance, reliability and cost-efficiency. As a subsidiary of a $117 billion international market maker, Samsung is committed to the continued development of innovative systems products for professional security applications. For more information, visit www.samsungsecurityusa.com.

---