Product News: Sensors, Monitors & Transducers
H2S Gas Detector features intelligent, solid state design.
Press Release Summary: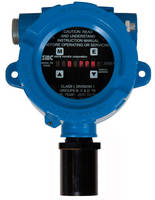 April 24, 2014 - Supplied in cast aluminum or 316 Stainless Steel enclosure, Sierra Monitor 5100-15-IT uses Metal Oxide Semiconductor solid state sensor technology to provide temperature ranges necessary to accommodate specific applications. This network-enabled hydrogen sulfide (H2S) gas detector, along with non-intrusive, one-person calibration, offers choice or combination of outputs: 4–20 mA, serial RS-485 Modbus RTU interface, HART communication, SentryBus interface, or optional 5 A integral relays.
Original Press Release
Sierra Monitor Intelligent Solid State H2S Gas Detector
Press release date: April 10, 2014
The Sierra Monitor 5100-15-IT Intelligent Solid State Hydrogen Sulfide Gas Detector utilizes MOS Solid State sensor technology to provide the user with the higher temperature ranges necessary for certain applications. This network-enabled gas detector includes:
• Non-intrusive, one-person calibration for easy calibration
• User-friendly, 8-character, fixed and scrolling LED display for ease of set-up with understandable menus
• Network-enabled with a choice or combination of outputs:
- 4-20 mA
- Serial RS-485 Modbus RTU interface
- HART Communication
- SentryBus interface
- Optional 5-amp integral relays
• Metal Oxide Semiconductor Solid State technology to accurately monitor Hydrogen Sulfide where high ambient temperatures occur
• Cast aluminum or 316 Stainless Steel enclosures for hazardous area.

For more information about the IT Series visit our website at: www.sierramonitor.com.

About Sierra Monitor Corporation

Sierra Monitor Corporation manufactures and integrates hazardous gas monitoring systems for industrial safety applications. With almost 30 years experience and over 15,000 installations of fixed gas monitoring systems Sierra Monitor is a technology leader in the industry. Sierra Monitor's accomplishments include the first digital bi-directional multi-drop communication bus between sensors and controller, the first serial Modbus communication output for plant-wide systems, the first interface to third party legacy sensors and devices and the first cost-effective web-based graphical system for monitoring plant-wide hazardous gas conditions.

For further information contact Stephen R. Ferree, Director of Marketing, Sierra Monitor Corporation, 1991 Tarob Court, Milpitas, CA 95035, 408-964-4450, toll free: 800-727-4377, Email: sferree@sierramonitor.com