Gun Case holds 2 complete shotguns.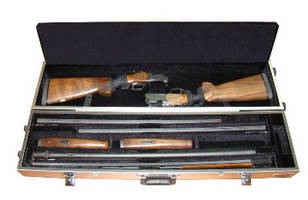 Gun Case holds 2 complete shotguns.
September 4, 2012 - Designed for 2 trap combos and 4 barrels up to 35 in. long., Ultra-Lite UL-2007W has compartments for 2 stocks, 2 fore-ends, 4 barrels, and 2 storage/tool areas. Velvet-lined case is equipped with grip strap for stocks and protective flap with Velcro closures that ensures guns are protected at all times. Case also includes 2 key-lockable latches, 2 eyelets that may be padlocked, and recessed wheels, which meet airport security guidelines.

Original Press release

Americase
1610 E. Main Street
Waxahachie, TX, 75165
USA



Americase Launches Newest Ultra-Lite the UL-2007W


"The UL-2007W is the latest Ultra-Lite product off of our line," said Bill Kinsala, President of Americase. "This is a great two trap combo case, which holds two complete shotguns along with four barrels. It weighs six pounds less than our premium model and includes recessed wheels. That's a great weight reduction, while maintaining the integrity that we are known for," continued Kinsala.

The launch of the Ultra-Lite Case Series was August 1, but we still have a few models in manufacturing that have a later release date. We hope in the next few weeks we will have all of UL Products out and available for purchase. " said Robby Kinsala, Vice President of Americase, Inc.

For more information please contact our sales team at 800-972-2737 or on our website at www.americase.com.

About Americase:

Americase is the premier case manufacturer of airline quality transport cases for Guns, Archery, and Industrial equipment. Americase produces commercial carrying cases as well as custom gun cases for shotguns, pistols, rifles, and archery equipment. Their onsite staff enables Americase to develop, engineer and create any case type you can imagine. If you can dream it, Americase can build it.

Americase has been providing Quality Carrying Cases, made in the U.S.A. since 1985. Follow us on Facebook: http://www.facebook.com/pages/Americase-Inc/157890210971010

---


Start Your

Free


Subscription to


Industry Market Trends

.