Glossmeter facilitates QC of automotive interiors.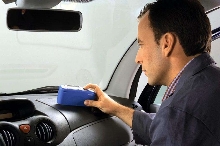 Glossmeter facilitates QC of automotive interiors.
July 8, 2005 - Micro-gloss S helps manufacturers meet QC requirements for automotive interior applications where materials such as leather, plastics, or fabrics are used and need to be harmonized in regards to appearance. To help ensure uniform look, it allows users to control gloss within ±0.3 gloss units and has auto-diagnosis feature that checks calibration values and ensures reliable readings. Included software allows for direct data transfer to Excel®.

(Archive News Story - Products mentioned in this Archive News Story may or may not be available from the manufacturer.)
Original Press release

BYK Gardner USA
Riverspark II
Columbia, MD, 21046 2729
USA


Gloss Control of Automotive Interior Parts
BYK-Gardner – world-wide partner of the automotive, paint and plastic industries for quality control of color, appearance and physical properties - is introducing the new micro-gloss S family with tighter specifications needed for automotive interior applications.

The quality and a high value impression of the interior are getting more and more important when purchasing a car. A variety of materials like leather, plastics or fabrics are used and need to be harmonized in regards to appearance. A uniform look can only be achieved by requiring very tight tolerances from the different component suppliers.

The micro-gloss S was developed especially for these tight QC requirements. Usually a very low gloss appearance is requested and should be controlled within half a gloss unit. The patented calibration procedure in conjunction with the use of special mat range standards allowed increasing the technical performance of the micro-gloss S family. As a result the repeatability of +/- 0.1 GU for 60°Gloss < 10 gloss units can be guaranteed, which consequently allows controlling gloss within +/- 0.3 gloss units.

Thanks to a clear menu structure and the new scroll wheel, even inexperienced users can get right to work. And the new auto-diagnosis feature checks the calibration values and assures reliable readings.

Also, documentation is easy. The included software allows direct data transfer to Excel® and the results are immediately displayed in a professional QC-report.

More information is available at: BYK-Gardner USA, 9104 Guilford Road, Columbia, MD 21046; Phone 800-343-7721; Fax 800-394-8215; Email custserv@bykgardnerusa.com.
---


Start Your

Free


Subscription to


Industry Market Trends

.