Product News: Test & Measuring Instruments, Chemical Processing & Waste Management, Materials & Material Processing
Gel Protein Recovery System is suited for top-down proteomics.
Press Release Summary: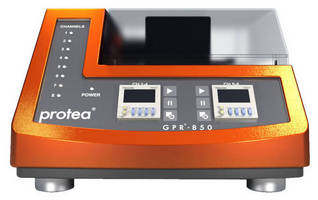 February 14, 2014 - Enabling recovery of intact proteins and peptides from polyacrylamide gels for top-down proteomics applications, GPR-850 System consists of GPR-850 instrument, GPRchips™, and GPR® Buffers and Reagents. Multiplexed, automated, microfluidics chip-based process facilitates effective protein identification, characterization, and quantitation by mass spectrometry. Several kits are available for specialized down-stream mass spectrometry applications, including ESI-MS and LC-MALDI.
Original Press Release
Protea Announces Release of New Gel Protein Recovery System
Press release date: February 13, 2014
The Gel Protein Recovery GPR-850 System enables intact protein recovery from polyacrylamide gels for top-down proteomics applications.

Morgantown, WV – Protea Biosciences Group, Inc. ("Protea") a leading developer of innovative bioanalytical products and services, announced today the release of their advanced Gel Protein Recovery GPR-850 instrument. The GPR® System delivers efficient recovery of gel separated intact proteins through a multiplexed, automated, microfluidics chip-based process.

The GPR System (consisting of the GPR-850 instrument, GPRchips™, and GPR Buffers and Reagents) enables researchers to recover intact proteins and peptides for subsequent top-down proteomics experiments. This process facilitates effective protein identification, characterization and quantitation by mass spectrometry.

The effectiveness of the system is enhanced by the use of proprietary reagents (which utilize Protea's Progenta™ Surfactants technology) together with the microfluidic-based GPRchip. The GPR System combines these components to provide a high throughput recovery platform for researchers interested in studying intact proteins.

The GPR System features several kits specifically designed for specialized down-stream mass spec applications, including ESI-MS and LC-MALDI. The new GPR-850 instrument features an updated user interface, improved mechanical and industrial design, and comes in six different colors to match the personalities of researchers, laboratories, or institutions.

Researchers interested in the GPR System have the option to enroll in the "30 Days of Experience" program. The program enables researchers to use a GPR-850 instrument in their lab for 30 days before purchasing.

Further information on the new GPR-850 instrument, GPR System, and the "30 Days of Experience" program can be found at https://proteabio.com/products/Gel+Protein+Recovery+System

About Protea Biosciences Group, Inc.
Protea is a molecular information company, whose proprietary technology enables direct molecular imaging – the ability to identify and display biomolecules in tissue and cells, without sample pretreatment. Protea delivers robust molecular information to medical and life science researchers worldwide.

For more Information:
Protea Biosciences Group, Inc.
955 Hartman Run Road
Morgantown, WV 26507 USA
Phone: 304.284.2600
Fax: 304.292.7101
www.proteabio.com

Client Contact:
haddon.goodman@proteabio.com