Product News: Test & Measuring Instruments
Gear Inspection System offers usability-optimized features.
Press Release Summary: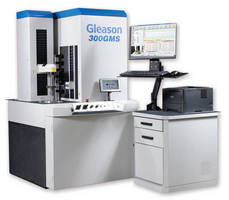 January 13, 2014 - Featuring Windows® 7-based Gleason GAMA™ 3.0 applications software suite, 300GMS® Analytical Gear Inspection System meets needs of automotive, aerospace, and other like-size gear producers for complete gear and non-gear parts inspection. Inspection functionality extends beyond gear geometry, offering surface finish and form measurement and prismatic measurement. Standard features include .NET control system, movement optimization, Renishaw® 3D probe head, and Advanced Operator Interface.

Original Press Release
Gleason Unveils New Gear Inspection Solution at IPTEX '14
Press release date: January 8, 2014
Rochester, New York, USA — As the industry's Total Gear Solutions Provider, Gleason will introduce its latest Analytical Gear Inspection System, the 300GMS along with advanced tooling and global customer support services at IPTEX '14, taking place at the Bombay Exhibition Center, Mumbai, India February 27 – March 1, 2014.  On display in Booth P3 will be:

• The Gleason 300GMS® Analytical Gear Inspection System: For the complete inspection of automotive transmission gears and other smaller gears, gear cutting tools and non-gear parts. This latest addition to the GMS Series of inspection systems (with models available for gears up to 3,000 mm in diameter) – was developed specifically to meet the needs of the world's leading automotive, aerospace and other like-size gear producers for a faster, more economical solution for complete gear and even non-gear parts inspection.   It is the first GMS to feature the new Windows® 7-based Gleason GAMA™ 3.0 applications software suite which, like its GAMA 2.0 predecessor, offers users a highly intuitive user interface and simple input screens for programming of workpiece and cutting tool data.  Those features, combined with ease of setup, a .NET control system, and movement optimization, reduce the cycle times required for the complete inspection of almost any gear or gear tool.

The 300GMS also features a Renishaw®  3D probe head to provide maximum accuracy and flexibility for the complete inspection of all kinds of gears and gear-cutting tools and, in particular, finer pitch gears.

The 300GMS is equipped with new ergonomically mounted operator workstations and an Advanced Operator Interface – both designed to greatly improve the operator's effectiveness at every stage of the inspection process. 

The Advanced Operator Interface puts a number of powerful tools right at the operator's fingertips, including a 'weather station' to record temperature and humidity, and video telephony, note pad and voice mail messaging capability, enabling the user to capture video, describe a particular programming issue and transmit it over the web to others in the customer's organization or to Gleason for support.

In addition, the 300GMS, like all the systems in the GMS family, offers users the ability to meet a variety of inspection tasks beyond just gear geometry on a single platform, including surface finish and form measurement and even prismatic (CMM) measurement.

Visitors to Gleason Booth P3 will also have the opportunity to learn more about our local production of advanced Genesis Hobbing Machines, workholding and cutting tools along with our state-of-the art cutting tool re-sharpening and re-coating capabilities. They will also be introduced to a number of other significant products, technologies and services, including:

•The industry's most complete line of gear cutting tool solutions.  Gleason is the industry's leading supplier of virtually every cutting tool type for the production of cylindrical and bevel gears of all types and sizes.  On display will be advanced new bevel gear cutting tools for cutting and grinding straight, spiral and hypoid bevel gears.

For cylindrical gear production, visitors will find a full array of hobs, form relieved milling cutters, shaper cutters, chamfering and deburring tools, shaving cutters, honing tools, coated diamond and CBN grinding wheels, diamond dressing wheels and diamond dressing rolls.

•Advanced workholding solutions.  In addition, Gleason designs and produces a complete series of quick-change, tool-less workholding equipment for both bevel gear and cylindrical gear, and non-gear production machines.  These systems range from the Gleason X-Pandisk® systems which automatically align workpieces weighing up to 2,000 kg to reduce changeover time by up to 70%, to Quick-Flex® and a large variety of quick-change workholding solutions that significantly reduce change-over times for the production of both bevel and cylindrical gears up to 200 mm in diameter. For inspection systems, Gleason offers the high-precision Gleason LeCount® expanding mandrels line, renowned for accurate, easy, extremely rapid location of all types of bore parts.

•Gleason Global Services.  Gleason customers can rely on locally based service and support as well as that of 250 factory trained service professionals located in over 50 countries throughout the world working around the clock to deliver the full range of aftermarket service and support capabilities.  Among the most recent of these is the new Gleason Connect® 'Remote Service technology, which enables Gleason Service Specialists from anywhere in the world to quickly and cost effectively identify, diagnose, repair and monitor products, minimizing costly downtime.

Gleason Corporation's mission is to be The Total Gear Solutions Provider™ to its global customer base.  Gleason is a leader in the development, manufacture and sale of gear production machinery and related equipment. The Company's products are used by customers in automotive, truck, aircraft, agriculture, mining, wind power, construction, power tool and marine industries and by a diverse set of customers serving various industrial equipment markets. Gleason has manufacturing operations in the United States, Germany, Switzerland, India, China and Japan, and has sales and service offices throughout North and South America, Europe and in the Asia-Pacific region.

More information about Gleason Corporation is available on the World Wide Web at http://www.gleason.com