Product News: Computer Hardware & Peripherals
GbE Fiber Bypass Network Card provides intrusion prevention.
Press Release Summary: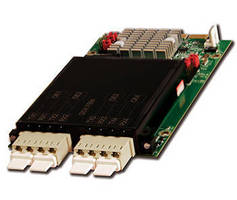 October 15, 2012 - Equipped with quad ports and 2 segments, Model NIP-52240 uses Fiber Switch Module with board-to-board high-speed connection technology instead of outside wired design. Generation 3 Bypass function supports Normal Mode, Bypass Mode, and Open Mode when system crashes or encounters power failure. Utilizing Intel® Ethernet controller 82580EB as core technology, NIP-52240 provides Intel® VMDq and Jumbo Frame functions. Card can support up to 12 GbE SFP with 6 bypass segments in 1U appliances.
Original Press Release
Portwell Announces Next Generation Quad-Ports Fiber Bypass/Failover Network Card
Press release date: October 10, 2012
FREMONT, CALIF. —American Portwell Technology, Inc. (http://www.portwell.com), a wholly owned subsidiary of Portwell, Inc., an innovative network solutions provider and a Premier member of the Intel® Intelligent Systems Alliance, announces the release of next generation GbE fiber bypass network card, NIP-52240.

The new Portwell quad-ports, two-segments bypass card NIP-52240 uses the latest Fiber Switch Module with board-to-board high speed connection technology instead of outside wired design. This new special Fiber Switch Module design can support easy deployment, longer product life, and more reliable network traffic than other fiber bypass cards in the market. This makes it the ideal solution for applications requiring secured mechanical structure and High-Availability (HA) on server-based systems, Intrusion Prevention Server (IPS), Intrusion Detection Server (IDS), WAN optimization, security appliances and other mission-critical gateways.

The NIP-52240 provides a complete intrusion prevention solution by Portwell-designed Generation 3 Bypass function which supports Normal Mode, Bypass Mode, and Open Mode when the system crashes or encounters power failure. The new Portwell NIP-52240 utilizes Intel® Ethernet controller 82580EB (formerly codenamed Barton Hills) as its core technology, and provides Intel® VMDq and Jumbo Frame functions.

The NIP-52240 quad-ports GbE fiber bypass card is compatible with all of Portwell 1U/2U Network security appliances. Also, through Portwell's user friendly design, the NIP-52240 is very easy to install into the systems. In addition, designed on a standard form factor, the NIP-52240 can support up to 12 GbE SFP with 6 Bypass segments in 1U appliances (base on Portwell CAR-4XXX series).

The NIP-52240 is a revolutionary product. It comes with a beautiful shape, durable architecture, and reasonable price.

Product details: http://www.portwell.com/products/detail.asp?CUSTCHAR1=NIP-52240

About American Portwell
American Portwell Technology, Inc., is a world-leading innovator in the Network Security market and a Premier member of the Intel® Intelligent Systems Alliance. American Portwell Technology designs, manufactures and markets a complete range of communications appliances, embedded computer boards and systems and rackmount systems for both OEMs and ODMs. American Portwell is an ISO 9001:2008, ISO 13485:2003 and ISO 14001:2004 certified company. The company is located in Fremont, California. For more information about American Portwell's extensive turnkey solutions and private-label branding service, call 1-877-APT-8899, email info@portwell.com or visit us at http://www.portwell.com.

All products and company names referred to herein may be trademarks or registered trademarks of their respective companies or mark holders.

Product Contact:
Oliver Chen
Product Marketing Manager
American Portwell Technology, Inc.
510-403-3316
oliverc@portwell.com

Media Contact:
Susan Wei
Marketing Executive
American Portwell Technology, Inc.
510-403-3354
susanw@portwell.com