Product News: Test & Measuring Instruments, Laboratory and Research Supplies & Equipment, Materials & Material Processing
Gas Chromatograph provides C6+ analysis.
Press Release Summary: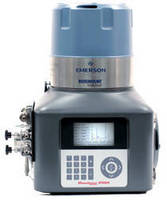 May 15, 2014 - Providing continuous online analysis of natural gas, Danalyzer 370XA features Maintainable Module™, which incorporates analytical components in removable module that can be replaced in field and maintained at component level. Software assistants on full-color LCD local operator interface provide step-by-step walk through of operational and maintenance functions such as changing calibration gas, auto-valve timing, and module replacement. Danalyzer 370X can be pole-, wall-, or floor-mounted.
Original Press Release
Emerson Introduces a Smarter, Simpler, Easy to Use Gas Chromatograph that Takes the Complexity Out of Natural Gas Measurement Applications
Press release date: May 7, 2014
The Danalyzer 370XA provides high accuracy measurement with a maintainable module design that simplifies operation and reduces the total cost of ownership

HOUSTON, TEXAS – Emerson Process Management has released the Danalyzer 370XA Gas Chromatograph (GC). Providing reliable measurement accuracy, minimal maintenance and greater ease of use, the Danalyzer 370XA is designed for continuous online analysis of natural gas for applications such as custody transfer, power generation, and burner fuel/air ratio control.

The Danalyzer 370XA provides a C6+ analysis similar to legacy Danalyzer GCs in a much smaller and simpler form.  New and experienced users alike will appreciate the latest advances in technology, improved diagnostics, and intuitive local operator interface (LOI), all of which come standard.

A unique advantage of the Danalyzer 370XA is the Maintainable Module™, which incorporates the analytical components in an easily removable module. The Maintainable Module™ can be replaced in the field in approximately two hours (including warm-up and purge), and can be maintained at the component level for cost-effective repair. Easy to use software assistants on the full-color LCD local operator interface reduce the need for specialized training by providing a step-by-step walk through of common operational and maintenance functions such as changing calibration gas, auto-valve timing and module replacement. The Danalyzer 370XA can be pole-mounted, wall-mounted or floor-mounted. No shelter is required for most environments.

"Emerson has pioneered gas measurement analysis for over 30 years," said Shane Hale, product marketing manager for Emerson, Rosemount Analytical. "Today, we continue to develop and perfect gas chromatography with the XA Series. With the addition of the Danalyzer 370XA, Emerson addresses more of our customer's needs by introducing a reliable, accurate, and operator friendly GC that lowers the cost of ownership."

About Emerson Process Management
Emerson Process Management (www.EmersonProcess.com), an Emerson business, is a leader in helping businesses automate their production, processing and distribution in the chemical, oil and gas, refining, pulp and paper, power, water and wastewater treatment, mining and metals, food and beverage, life sciences and other industries. The company combines superior products and technology with industry-specific engineering, consulting, project management and maintenance services. Its brands include PlantWeb™, Syncade™, DeltaV™, Fisher®, Bettis™, Micro Motion®, Rosemount®, Daniel™, Ovation™ and AMS Suite.

About Emerson
Emerson (NYSE:EMR), based in St. Louis, Missouri (USA), is a global leader in bringing technology and engineering together to provide innovative solutions for customers in industrial, commercial, and consumer markets around the world. The company is comprised of five business segments: Process Management, Industrial Automation, Network Power, Climate Technologies, and Commercial & Residential Solutions. Sales in fiscal 2013 were $24.7 billion.  For more information, visit www.Emerson.com