Product News: Computer Hardware & Peripherals, Electrical Equipment & Systems, Green & Clean, Mounting & Attaching Products
Fully Managed Ethernet Switches integrate PROFINET I/O stack.
Press Release Summary: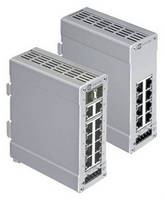 April 10, 2014 - Designed for mounting on top-hat rails, Ha-VIS mCon 3000 Next Generation (NG) switches can be incorporated into existing and new PROFINET applications and also work with other industrial Ethernet-based protocols. Configuration is possible via Web interface, CLI, SNMP, or multifunction button on front. While 3080-A with eight 10/100Base-T(X) RJ45 ports, 3102-AASFP has eight 10/100Base-T(X) ports and two 10/100/1000Base-T(X) combo ports with SFP slots for either copper or fiber optic lines.
Original Press Release
HARTING Launches Next Generation Ha-VIS mCon Ethernet Switches with Integrated PROFINET I/O Stack
Press release date: March 1, 2014
Elgin, IL – HARTING's two newest, fully managed Ethernet switches – the Ha-VIS mCon 3000 Next Generation – have been optimized for fast deployment in the harshest industrial environments to support today's increasingly sophisticated network structures. These newest switches in the Ha-VIS mCon 3000 lineup deliver high availability, network security, monitoring and reliability and are designed for mounting on top-hat rails in control cabinets. With their PROFINET I/O stack, mCon 3000 NG switches can be deployed and incorporated seamlessly into existing and new PROFINET applications. These new switches also are compatible with other industrial Ethernet based protocols including EtherNet/IP. mCon 3000 NG Ethernet switches can be configured using a web interface, command line interface, SNMP or the multifunction button located in front, which provides additional options for fast, basic configuration. Ha-VIS mCon 3000 switches also are equipped with an SD card slot allowing for existing configurations to be stored as backup or for transferring to another SD card-equipped Ha-VIS mCon for fast commissioning.

The Ha-VIS mCon 3000 Next Generation comes in two models: the 3080-A with eight 10/100Base-T(X) RJ45 ports and the 3102-AASFP with eight 10/100Base-T(X) ports and two 10/100/1000Base-T(X) combo ports with SFP slots for either copper or fiber optic lines. All ports are managed, non-blocking and support auto-crossing, auto-negotiation and auto-polarity. With an operating temperature range of -40oC to +70oC (-40oF to 158oF) and features like Media Redundancy Protocol and Precision Time Protocol, these switches are well-suited for a wide range of applications and operating environments, such as factory automation and robotics, marine systems as well as wind and solar power installations.

About HARTING
The HARTING Technology Group, privately owned and based in Germany, employs approximately 3,800 people globally with subsidiaries and branch offices in 40 countries. With production facilities in Europe, Asia and the United States, the HARTING portfolio of connectivity solutions focuses on multiple levels, from the machine to the device and into the communication infrastructure. The US plant in Elgin, Illinois is one of three HARTING locations that manufactures the HIS product line (HARTING Integrated Solutions/backplanes) and custom cable assemblies. The company's core business is intelligent and high-performance connection technology. HARTING works in almost all industrial markets with a focus on requirements for robust, reliable connectivity solutions.

Photo (see JPG attached): HARTING's Ha-VIS mCon 3000 Next Generation Ethernet switches come in two models: the 3080-A with eight 10/100Base-T(X) RJ45 ports and the 3102-AASFP with eight 10/100Base-T(X) ports and two 10/100/1000Base-T(X) combo ports with SFP slots.

Media Contacts:
Christina Chatfield
Marketing Communications Manager
HARTING North America
1370 Bowes Road
Elgin, IL 60123, USA
+1 (847) 717-9217
christina.chatfield@HARTING.com

Martin Wendland
PR Toolbox
126 Neville Park Blvd
Toronto, ON M4E 3P8, Canada
+1 (416) 830-8797
mwendland@pr-toolbox.com

www.harting-usa.com