Four Foot LED Tube Light generates 2,750 lm.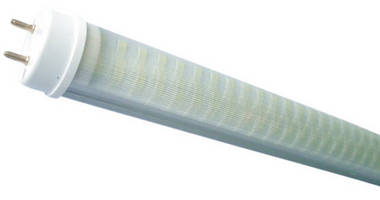 Four Foot LED Tube Light generates 2,750 lm.
January 7, 2013 - Available in 5,600K and 4,300K colors, LEDT8-28W-V1 comes in nominal 4 ft length and is designed to replace T8 and T12 fluorescent bulbs in retrofit applications. This 28 W, LED T-series style tube bulb, which may be energized via†direct connection to 120/277 Vac or 12/24 Vdc supply,†delivers 2,750 lm, has internal driver, and is ETL-listed.

Original Press release

Larson Electronics, LLC
9419 E US Hwy. 175
Kemp, TX, 75143
USA



Larson Electronics Releases Four Foot LED Tube that Generates 2750 Lumens


Larson Electronics announced the release of a new four foot LED T-series style bulb that replaces T8 and T12 fluorescent bulbs.† The LEDT8-28W-V1 28 watt LED tube bulb delivers 2,750 lumens and is available in 5600K and 4300K color.

Larson Electronics released the LEDT8-28W-V1 LED T-series bulb that produces 2,750 lumens per bulb for T8 and T12 fluorescent lamp retrofit replacements.† Available in a nominal 4 foot length, this high lumen output LED tube has an internal driver, meaning the bulb does not require and additional external driver.† Operators simply connect either 120/277 VAC or 12/24 VDC directly to the lamp to energize it.† The ETL listed T-series style LED bulb represents that latest and highest output of a line of LED bulbs encompassing form factors ranging from Par bulbs to A19 style bulbs.

"At this time, I don't think there is another LED T-series tube on the US market delivering 2,750 lumens, said Rob Bresnahan with Larsonelectronics.com.† "At the same time, it also has higher wattage than other LED tubes, but it still comes in well below the 32 watt T8 bulb, while delivering more usable light."

Larson Electronics produces a wide range of LED bulbs, including T-series bulbs, A19 style bulbs and PAR 38 and 46 bulbs.† You can learn more about Larson Electronics at Larsonelectronics.com or 1-800-369-6671 (1-903-498-3363 international).

---