Product News: Portable Tools, Machinery & Machining Tools, Construction Equipment & Supplies
Foundation Drilling Tools feature quick change holders.
Press Release Summary: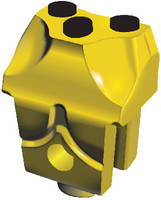 April 1, 2014 - In addition to quick-change tool holders and tools, KF Series includes duo-cut and single-cut wall cutters, welding bar tools and teeth, modular pilot drills, and modular pilot drill holders. Series covers majority of core barrel applications and is suitable for all foundation drilling conditions, especially deep foundation of large-diameter bore holes. Also, tapered seating design provides strong seating area and enables easy removal of tool.
Original Press Release
Kennametal Introduces New KF Series Foundation Drilling Portfolio
Press release date: March 24, 2014
Ultimate production tools for foundation drilling

New KF Series foundation drilling portfolio features quick-change tapered-seating design.

From monumental civil engineering projects such as dams and bridges to the foundations of major buildings, drilled shafts occupy a fundamental and vital role in many earthworks and heavy-construction industries. Whether it´s solid rock or wet slop, drilling the right holes in the right places requires the right knowledge coupled with the right equipment and the right tools.

Kennametal, the world´s leading provider of wear-resistant products and applications engineering, recognizes the foundation for successful drilling is built on rock-solid reliability and progress. That´s why the company is proudly introducing a new platform of foundation drilling products — the KF Series.

Complementary to Kennametal´s existing portfolio of foundation drilling tools and products, the KF Series covers the majority of core barrel applications and is ideal anywhere foundation drilling is being done, especially deep foundation of large-diameter bore holes.

Quick Change Holder System
Drilling with core barrels, material fines compact into the seating area of the tooth and holder interface, causing galling. Parallel seating design makes tooth replacement difficult and requires a special hydraulic removal tool. Kennametal´s new KF Series´ tapered-seating design provides a strong seating area and easy removal -- just a small hit and the tool comes out easily. Safety and serviceability improve while reducing downtime changing teeth.

In addition to quick-change tool holders and tools, the entire KF series includes duo-cut and single-cut wall cutters, welding bar tools and teeth, modular pilot drills and modular pilot drill holders - all characterized by exceptionally tough cutting designed for use in all foundation drilling conditions. The results are high productivity and performance, fast and easy tool changes, and less downtime, all equating to more time drilling and getting the work done.

The new KF Series is featured in Kennametal's new foundation drilling catalog, with complete ordering information, dimensions and drawings, and detailed images on the KF-series cutting tools as well as recommended guidelines for installation and use. For more information, visit www.kennametal.com.

Kennametal
Celebrating more than 75 years as an industrial technology leader, Kennametal Inc. delivers productivity to customers seeking peak performance in demanding environments. The company provides innovative wear-resistant products, application engineering and services backed by advanced material science, serving customers in 60 countries across diverse sectors of aerospace, earthworks, energy, industrial production, transportation and infrastructure. With approximately 14,000 employees and nearly $3 billion in sales, the company realizes half of its revenue from outside North America, and 40% globally from innovations introduced in the past five years. Recognized among the "World's Most Ethical Companies" (Ethisphere); "Outstanding Corporate Innovator" (Product Development Management Association); and "America's Safest Companies" (EHS Today) with a focus on 100% safety, Kennametal and its foundation invest in technical education, industrial technologies and material science to deliver the promise of progress and economic prosperity to people everywhere. For more information, visit the company's website at

Kennametal Inc.
1600 Technology Way
PO Box 231
Latrobe, PA 15650-0231 USA
Kathy LINDEN
Phone: 724 539 5698
Fax: 724 539 6766
kathy.linden@kennametal.com

Kennametal Shared Services GmbH
Wehlauer Strasse 73
D-90766 Fuerth
Carsten GROMOLL
Phone: +49 911 9735 557
Fax: +49 911 9735 551
carsten.gromoll@kennametal.com