Product News: Test & Measuring Instruments, Laboratory and Research Supplies & Equipment
Folded Capillary Cell optimizes zeta potential measurement.
Press Release Summary: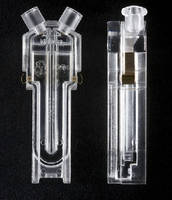 May 9, 2013 - Available for Zetasizer Nano particle and molecular characterization systems, Folded Capillary Cell is intended primarily for measurement of zeta potential, but can also be used for size measurements. Cell is fundamental to diffusion barrier technique for high-sensitivity measurement of electrophoretic mobility of labile biological molecules, such as proteins in solution. Since cell is completely disposable, it eliminates risk of cross-contamination.
Original Press Release
Malvern Instruments' New Improved Folded Capillary Cell Enhances Zeta Potential Measurement
Press release date: April 30, 2013
Malvern, UK:  Malvern Instruments has introduced a new, improved disposable folded capillary cell for use in its Zetasizer Nano particle and molecular characterization systems. The new cell is designed to further enhance the reproducibility of zeta potential measurements. It replaces the previous model of folded capillary cell while providing the same 'plug and play' convenience for easy application and disposal. Although intended primarily for the measurement of zeta potential, the disposable folded capillary cell can also be used for size measurements and is fundamental to Malvern's patented diffusion barrier technique for the reliable, high-sensitivity measurement of the electrophoretic mobility (or zeta potential) of labile biological molecules, such as proteins in solution.

Conventionally, a long linear capillary cell is used when measuring zeta potential in order to separate the measurement zone from the electrodes and to provide a sufficiently long surface for the development of a smooth electro-osmotic profile. Malvern's folded capillary cell has all the advantages of a linear capillary cell while being completely disposable, for applications where there might otherwise be a risk of cross-contamination.

The folded capillary cell is also used in the diffusion barrier technique for measuring zeta potential, where sample is separated from the electrodes in order to avoid aggregation under the influence of the applied electric field. This is done by filling the cell with buffer, then introducing a small volume of sample into the measurement zone. In addition, the ability to measure size in the same cell before and after a zeta potential measurement enables checks to be made that ensure zeta potential measurement has not been affected by any aggregation of the sample.

The Malvern Zetasizer Nano range provides both exceptionally high performance and entry level systems that incorporate combinations of a particle size analyzer, zeta potential analyzer, molecular weight analyzer, protein mobility and microrheology measurements. Particles and molecules from less than a nanometer in size to several microns can be analyzed by a range of variants to suit different applications and budgets.

For further details of Zetasizer Nano systems and accessories visit:
http://www.malvern.com/labeng/products/zetasizer/zetasizer_nano.htm

For further details of the full range of cells and cuvettes available from Malvern Instruments visit:
http://www.malvern.com/labeng/products/zetasizer/zetasizer_nano/nano-zsp/cell-options.htm

Malvern, Malvern Instruments and Zetasizer are registered trademarks of Malvern Instruments Ltd

About Malvern Instruments
Malvern provides the materials and biophysical characterization technology and expertise that enables scientists and engineers to understand and control the properties of dispersed systems. These systems range from proteins and polymers in solution, particle and nanoparticle suspensions and emulsions, through to sprays and aerosols, industrial bulk powders and high concentration slurries. Used at all stages of research, development and manufacturing, Malvern's materials characterization instruments provide critical information that helps accelerate research and product development, enhance and maintain product quality and optimize process efficiency.

Our products reflect Malvern's drive to exploit the latest technological innovations and our commitment to maximizing the potential of established techniques. They are used by both industry and academia, in sectors ranging from pharmaceuticals and biopharmaceuticals to bulk chemicals, cement, plastics and polymers, energy and the environment.

Malvern systems are used to measure particle size, particle shape, zeta potential, protein charge, molecular weight, mass, size and conformation, rheological properties and for chemical identification, advancing the understanding of dispersed systems across many different industries and applications.

Headquartered in Malvern, UK, Malvern Instruments has subsidiary organizations in all major European markets, North America, China, Japan and Korea, a joint venture in India, a global distributor network and applications laboratories around the world. www.malvern.com

Facebook: MalvernInstruments
Blog: www.materials-talks.com
Youtube: malverninstruments
Linked-In: malvern-instruments
Twitter: malvern_news
Google +: https://plus.google.com/105749461389316404960/posts#105749461389316404960/posts

USA contact:
Marisa Fraser, Malvern Instruments Inc.
117 Flanders Road, Westborough, MA 01581-1042  USA
Tel:  +1 508 768 6400 Fax: +1 508 768 6403 
marisa.fraser@malvern.com

Please send sales enquiries to:
Alison Vines, Malvern Instruments Ltd
Enigma Business Park, Grovewood Road, Malvern, Worcestershire WR14 1XZ  UK
Tel: +44 (0) 1684 892456; Fax: +44 (0) 1684 892789
salesinfo@malvern.com