Product News: Communication Systems & Equipment, Electronic Components & Devices, Optics & Photonics
Fluorescence Filter Cubes are pre-mounted for proper alignment.
Press Release Summary: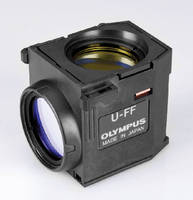 February 1, 2013 - Available in 22 different filter combinations for both Olympus and Nikon microscopes, TECHSPEC® Pre-Mounted Fluorescence Filter Cubes each include one TECHSPEC Fluorescence Dichroic Filter and 2 TECHSPEC Fluorescence Bandpass Filters, which have been specifically oriented for optimal excitation and emission of popular fluorophores. Filters may be removed and replaced depending upon application requirements.
Original Press Release
TECHSPEC® Pre-Mounted Fluorescence Filter Cubes
Press release date: January 31, 2013
TECHSPEC® Pre-Mounted Fluorescence Filter Cubes Offer Easy Integration into Olympus and Nikon Microscopes

Barrington, N.J. - Edmund Optics® (EO), the premier provider of optical components, introduces new TECHSPEC® Pre-Mounted Fluorescence Filter Cubes. These fluorescence filter cubes easily integrate into Olympus and Nikon microscopes for use in a wide range of life science applications.

Proper alignment ensures high accuracy

TECHSPEC Pre-Mounted Fluorescence Filter Cubes are designed to be easily integrated into many popular Olympus or Nikon microscopes. Pre-mounting ensures proper alignment of filter sets, saving valuable time. To provide additional application solutions, unmounted TECHSPEC Fluorescence Filter Kits are also available.

Oriented for optimal excitation and emission of popular fluorophores

Each TECHSPEC Pre-Mounted Fluorescence Filter Cube includes one TECHSPEC Fluorescence Dichroic Filter and two TECHSPEC Fluorescence Bandpass Filters. These components have been specifically oriented for the optimal excitation and emission of popular fluorophores. For maximum adaptability, filters may be easily removed and replaced depending upon the application requirements. TECHSPEC Pre-Mounted Fluorescence Filter Cubes are available in 22 different filter combinations for both Olympus and Nikon microscopes. Each TECHSPEC Pre-Mounted Fluorescence Filter Cube is built-to-order from stock components for quick turnaround.

TECHSPEC Pre-Mounted Fluorescence Filter Cubes will be on display at BIOS (Booth 8822) and Photonics West (Booth 1323) in San Francisco, CA.

About EO:
Edmund Optics® (EO) is a leading producer of optics, imaging, and photonics technology for R&D, electronics, semiconductor, pharmaceutical, biomedical, and military markets around the globe. EO is the world's largest supplier of off-the-shelf optical components. Customers can purchase items by contacting EO at 1-800-363-1992, via the catalog, or via the website at www.edmundoptics.com

Company Contact:
Kirsten Bjork-Jones
Director Global Marketing Communications
Edmund Optics®, Inc.
101 East Gloucester Pike
Barrington, NJ 08007 U.S.A.
Phone: 1-800-363-1992
Fax: 1-856-573-6295
email: kbjork-jones@edmundoptics.com