Fleet GPS System is designed for plow trucks.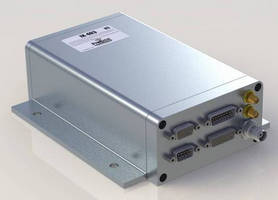 Fleet GPS System is designed for plow trucks.
May 2, 2012 - Supporting GSM/WiFi communications, IX-403 rugged mobile resource management system lets municipal truck fleet managers monitor location and productivity, measure material usage, and obtain maintenance snapshot of vehicles. Input tracking allows monitoring of up to 6 digital or analog inputs for data collection on plow position, impact sensors, availability, engine temperature, and more. Also, solution can help reduce fuel via optimized routing and idle time/speeding identification.

(Archive News Story - Products mentioned in this Archive News Story may or may not be available from the manufacturer.)

Additional information provided by manufacturer
Original Press release

FORCE America
501 E. Cliff Rd.
Burnsville, MN, 55337
USA



PreCise MRM Unveils the Next Advancement in AVL-GPS Systems


MERIDIAN, ID - PreCise MRM has unveiled its latest advancement in AVL-GPS/GPRS technology for plow trucks, the IX-403. The IX-403 GPS device is the next generation of rugged, full-featured mobile resource management systems that provide the latest in technology to deliver critical vehicle data to fleet managers. The IX-403 allows municipal truck fleet managers to monitor location and productivity, measure material usage, and maintain a snapshot of maintenance needs of the vehicle.

The IX-403 provides these important features:
Input Tracking, monitor up to six digital or analog inputs for data collection on:

Plow position

Impact sensors

Vehicle availability (free/busy)

Service components

Engine temperature sensors

Equipment usage for maintenance

Plow Spreader Control Integration with FORCE America Controls

Best in class integration with FORCE America SSC5100 & 6100 spreader controllers

Monitor 37 winter maintenance events

Automate driver logs for greater accuracy

Positive Environmental Impact

Identify excess salt & sand application

Improve vehicle maintenance tracking

Reduce fuel via optimized routing and identify idle time and speeding

Communication Options

GSM - cellular

WiFi communication

A combination of both

"There is a multitude of critical decision making data that the IX-403 collects from the plow truck in order to populate customizable reports that fleet managers can use to maximize their resources and minimize costs," says Michael Schlag, Product Manager for PreCise MRM.

Winter maintenance professionals have been given a daunting task: Find a seemingly impossible balance between public safety, fiscal responsibility, and environmental conservation. FORCE America provides complete systems to help organizations focused on winter maintenance to measure, control, and ultimately reduce salt and other road treatment chemical usage. FORCE America's focus is to provide tools to assure the right blend of materials are used in the minimum quantities to maximize public safety while minimizing cost and environmental impact. "The announcement of the PreCise MRM IX-403 GPS device is the latest tool to put the power to fight winter in the hands of Public Works teams across North America," adds Schlag.

About PreCise MRM - Mobile Resource Management
PreCise(TM) MRM provides fleet management solutions, utilizing the latest in mobile and GPS technology to improve productivity and cost effectiveness to the on-off highway market. The solution is a combination of rugged hardware and web-based software designed to dramatically improve the visibility and control over mobile resources. From basic location and speed information to complex data coming from intelligent onboard devices, PreCise MRM products capture, store, and transmit data to a user-friendly interface, viewable from anywhere in the world via a secure internet connection.

PreCise MRM is a subsidiary of FORCE America, Inc.
www.precisemrm.com
1-888-449-0357

About FORCE America, Inc.
With over 50 years experience, FORCE America manufactures and distributes products that meet the needs of mobile, on-off highway markets. Our products are backed by technical support and application know-how for the most demanding applications.

FORCE America, Inc. is comprised of:
FORCE America Manufacturing and Distribution
www.forceamerica.com
Manufacturer and supplier of mobile hydraulic systems, electronic controls and components.
VariTech Industries
www.varitech-industries.com
Manufacturer of automatic salt-brine production, liquid storage, transfer and mobile application systems.
PreCise MRM
www.precisemrm.com
Manufacturer of Mobile Resource Management hardware and software solutions targeted at both on and off road applications.

Markets:
Agricultural Equipment
Commercial Fleets (Service/Utility)
Lawn and Landscape Equipment
Light, Medium, and Heavy Duty Trucks
Municipal/Public Works
OEM Agricultural Equipment
OEM On-Off Highway Equipment
Snow Removal Contractors

For more information, please email: info@forceamerica.com

---


Start Your

Free


Subscription to


Industry Market Trends

.