Finishing/Grinding Disc is intended for metal applications.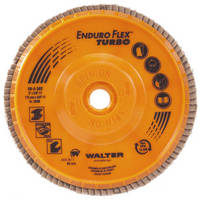 Finishing/Grinding Disc is intended for metal applications.
August 25, 2010 - Suited for work on steel, stainless, and aluminum materials, Enduro-Flex Turbo employs Cyclone technology, which combines abrasive grains combined with cooling agents to accelerate removal rate and provide uniform finish. Features and flap geometry ensure 36 Grit cut rate with 60 Grit final finish. Design also provides Turbofan cooling, which helps piece being worked on stay cooler to minimize surface damage and extend disc life.

(Archive News Story - Products mentioned in this Archive News Story may or may not be available from the manufacturer.)
Original Press release

Walter Surface Technologies
810 Day Hill Rd.
Windsor, CT, 06095
USA




Walter Surface Technologies Launches Enduro-Flex Turbo to Help Clients in Metal Finishing


WINDSOR, CONNECTICUT - Time consumed by most tasks within the metalworking industry including weld cleaning and removal, edge breaking, deburring and blending, can be quickly recorded because, in this work, time really means money. Whoever can grind or clean the most, the fastest, and finest, wins hands down and Enduro-Flex Turbo triples its value because it works not only on steel but also on stainless, and aluminium. Expert members of the Walter team sure know this because many have been directly involved upwards of fifty years. And that's why Enduro-Flex Turbo was born!

Enduro-Flex Turbo with its exclusive Cyclone technology combines a unique mixture of abrasive grains with cooling agents that produce the industry's fastest removal rate plus a uniform finish. Together, Cyclone Technology along with exclusive flap geometry, can guarantee a 36 Grit cut rate with a 60 Grit final finish.

For a closer look, please click this link: http://link.brightcove.com/services/player/bcpid3344859001?bclid=1184427900&bctid=80127045001

and see the results of Enduro-Flex Turbo with its higher removal rate versus an excellent competitor. In an actual laboratory environment, Enduro-Flex Turbo by Walter can generate a removal rate (g/min.) up to 50% more than standard blending discs.

Plain arithmetic quickly demonstrates the labor cost savings along with the reduction in tool costs, due to the durability of Enduro-Flex Turbo. Cost savings can be reduced by as much as 30% when compared to standard blending discs.

"In addition to helping our clients 'work better' we believe cost reducing innovations like Enduro-Flex Turbo can actually impact their bottom line." says Tim Houghton, President and COO of the WALTER company. ''Thousands of steel workers across our country can improve their every day productivity simply by adding Enduro-Flex Turbo to their tool mix. In total, the worker gets more done without having to work harder" adds Houghton proudly.

A final note: Enduro-Flex Turbo provides patented Turbofan cooling! Thus the piece being worked upon stays at least 10% cooler. And this results in less surface damage and longer disc life. If one also considers the spin-on application for easier adding or removal of discs this also adds a time saver which makes the work a bit easier and safer for the operator.

WALTER SURFACE TECHNOLOGIES: A forward look
Walter Surface Technologies a privately held company with its US headquarters in Windsor, Connecticut has served the metal fabricating and related industries in the Americas and Europe for over fifty years. It continues researching and developing new, environmentally friendly, sustainable products through its expanding global network of offices and university laboratories. Walter Surface Technologies global headquarters is located near Montreal, Canada.

www.walter.com


---


Start Your

Free


Subscription to


Industry Market Trends

.