Filtration Module suits surface finishing applications.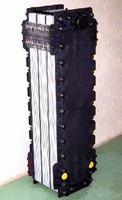 Filtration Module suits surface finishing applications.
October 5, 2005 - Intended for ultrafiltration of electrophoretic paint, PleiadeŽ MP4 consists of stack of separate membranes. Users can see quality of permeate from each membrane though window and isolate individual membranes by means of small valve, eliminating production stoppage. Offering alternative to spiral systems and manufactured from plastics and composites, filter is modular, interchangeable, and resistant to corrosion.

(Archive News Story - Products mentioned in this Archive News Story may or may not be available from the manufacturer.)
Original Press release

Orelis S.A.S
5, chemin du pilon - St Maurice de Beynost
Miribel, , 01708
France



Orelis Introduces its New Filtration Module PleiadeŽ MP4 for Industrial Surface Finishing Applications


Orelis is launching a new individual filtration module, named PleiadeŽ MP4, for the ultrafiltration of electrophoretic paint. Available in two versions, MP450 and MP470, it has the advantage of combining the ease of use and cleaning of flat modules with the compactness of spiral modules at a more competitive price. Based on the tried and tested technology of PleiadeŽ modules, the filtering surface of the PleiadeŽ MP4 consists of a stack of separate membranes. A unique feature is the ability to see the quality of permeate from each membrane through a window and isolate individual membranes by means of a small valve. This allows doing away with any production stoppage.

Extremely functional, the major components of MP4 are manufactured from plastics and composites. It is strong, and extremely resistant to any type of corrosion. Its design makes it interchangeable and modular. Light and compact, it is very easy to handle. It differs technically in that the membranes are supported on flat plates with an open paint channel and is claimed to offer more stable performance and more effective membrane cleaning. Surfaces are fast and easy to clean with the permeate. This "green" module does not reject polluting effluent.

What's more; the MP4 module is designed as an alternative and replacement to spiral systems and retains the modular concept offering flexibility and ease of maintenance. Supplied in a "ready to use" condition, it can be put immediately into service as new or replacement equipment. Its price is competitive and it provides a rapid return on investment. To date, Orelis has supplied all the major automobile manufacturers and more than 100 modules are in operation throughout the world.

Orelis filtration modules have numerous applications in the field of surface treatment. In the automobile and mechanical engineering sectors, membranes produce the ultrafiltrate needed for rinsing after cataphoretic painting, and recycle demineralised water. They also separate water from oil or recycle degreasing baths.

Orelis offers different types of membranes suitable for new types of paint. These new membranes can be used to enhance the filtrate or concentrate in widely diverse applications. The company's expertise starts with a wide range of membranes, and includes advices for their use and implementation. It also offers a complete range of services, from audits to operator training.

About Orelis:
Orelis is dedicated to the design and manufacture of membranes assembled in the form of modules for microfiltration, ultrafiltration and nanofiltration, and is now part of Novasep Process, a Novasep Group subsidiary.

With 40 years of experience in the automobile industry and mechanical engineering, Orelis holds more than 50% of the market share.

About Novasep Process:
The Novasep Group, a world leader in purification processes, provides expertise in processes and customized synthesis through its two networks, Novasep Synthesis and Novasep Process.

Novasep Process develops separation systems based on chromatography, ion-exchange, cross flow filtration and crystallization. This network includes Novasep SAS (chromatography and crystallization for the pharmaceutical industry), Applexion (chromatography, ion-exchange for agrifood industries and biotechnology companies) and Orelis (specializing in membrane-based processes).

For further information, please contact:
Marine BENCE
NOVASEP PROCESS
Marketing & Communication Manager
Tel: +33 (0)4 72 01 28 48
Fax: +33 (0)4 78 55 38 33
E-mail: marine.bence@novasep.com

---


Start Your

Free


Subscription to


Industry Market Trends

.