Product News: Computer Hardware & Peripherals
Fanless Box PC supports railway applications.
Press Release Summary: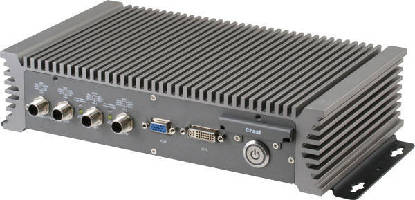 January 14, 2014 - Housed in aluminum enclosure with Intel® Core™ i7-3517UE processor, Model AEV-6356 is EN50155-TX certified, which governs operation, design, construction, and testing of electronic equipment used on rail vehicles and in railway applications. Isolated DI/O and multiple power protections such as OVP, LVP, SVP, and RVP help to protect unit from EMI damage while train is in motion. For enhanced safety, AEV-6356 also adopts rugged M12 connectors for LAN/ Serial/ USB/ Power ports.
Original Press Release
AAEON Launches New AEV-6356 Railway BOX PC to Hit the Market of Railway Applications
Press release date: January 8, 2014
Industry-Proven High Performance BOX PC Helps You Migrate to the Next Generation of Railway Business

(Taipei, Taiwan)  — AAEON, a major developer of industrial computing solutions, today announces the release of the new high-end AEV-6356 Railway BOX PC to satisfy the versatile needs of railway business. 

Modern railway business demands high reliability, availability, and cost-effective infrastructures and equipments. The advanced modern technology and evolving embedded controller applications make rail transportation industry even more versatile and flourishing. Good railway system solutions with high flexibility are indispensable in modern railway transportations, such as High Speed Rail, Mass Rapid Transportation (MRT) and Subway. The core of a successful railway transportation network requires an intelligent computing platform to offer simultaneous, convenient and efficient services.

The AAEON AEV-6356 is designed for the railway vertical markets which demand fanless embedded computer solutions. The AEV-6356 adopts a powerful Intel® Core™ i7-3517UE Processor and is EN50155-TX certified, which governs the operation, design, construction and testing of electronic equipment used on rail vehicles and in railway applications. This certification also regulates running at a wide operating temperature between -40°C ~70°C and 80°C for 10 minutes. In addition, to further ensure and maintain the safety of operating trains, this certification requires strict adherence to anti-vibration, anti-shock and anti-drop regulations. The AEV-6356 aluminum enclosure provides even greater protection of such regulated functions. Free of common internal fan malfunctions of box PC systems, the AEV-6356 supports a fanless design and is also equipped with a patented thermal design, superior in reducing and resolving heat generating complications. Isolated DI/O and multiple power protections such as OVP (Over-voltage Protection), LVP (Lower-voltage Protection), SVP (Surge Voltage Protection) and RVP (Reverse Voltage Protection) help to protect the AEV-6356 from EMI damage while the train is in motion. For enhanced safety reasons, the AEV-6356 also adopts rugged M12 connectors for LAN/ Serial/ USB/ Power ports.

AEV-6356 integrates the vertical application of railway business by providing sufficient and versatile functions, such as Passenger Entertainment System for improving passenger comfort and Smart Monitoring for supervising the railway system control and cabinet security. Moreover, the AEV-6356 can be used as a railway gateway system to enable data connectivity to telemetry devices, station and train control. "The AEV-6356 complies with strict railway standards and feature wide operating temperature with redundant power options to provide high reliability for railway applications," states Wayne Chen, CTO of AAEON. "With annual sales over 2,000 and has been adopted by a customer in Eastern Europe, the AAEON AEV-6356 is an industry-proven high quality railway BOX PC solution for railway vertical markets."

For more product and service information, please contact one of AAEON's regional sales representatives or visit www.aaeon.com.

About AAEON
AAEON is a leading manufacturer of advanced industrial and embedded computing platforms. Committed to innovative engineering, AAEON provides integrated solutions, hardware and services for premier OEM/ODMs and system integrators worldwide. Reliable and high quality computing platforms include industrial motherboards and systems, industrial displays, rugged tablets, PC/104 modules, PICMG half-size and full-size boards and COM modules, embedded SBCs, embedded controllers and related accessories. AAEON also offers customized end-to-end services from initial product conceptualization and product development on through to volume manufacturing and after-sales service programs. AAEON is an Associate member of the Intel Intelligent Systems Alliance.

Intel and Intel Core are registered trademarks of Intel Corporation in the United States and other countries.

Notes:
1. Intel, Intel Core and Celeron are registered trademarks of Intel Corporation in the United States and other countries.
2. Note to reporters, editors and writers: AAEON is written in ALL CAPS.

Press Contact
AAEON Technology Inc.
David Chen
TEL: +886-2-8919-1234 # 1113
Email: davidchen@aaeon.com.tw