Fanless Box PC leverages 4th Gen Intel® Core(TM) CPU.
Press Release Summary: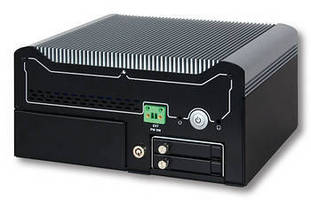 June 26, 2014 - Utilizing 35 W Intel desktop CPU with HD4600 graphics engine and Intel Q87 chipset, WEBS-3583 supports dual-channel DDR3 memory up to 16 GB and offers 3 independent display (DisplayPort/HDMI/VGA) interfaces. I/O also includes Gigabit Ethernet, serial, USB 2.0, USB 3.0, 8-bit GPIO, and Mic-in/Line-in/Line-out, while expansion is accommodated via embedded board which features PCI/PCIe expansion module. Performance is optimized with heat spreader and isolated chamber for add-on card.
Original Press Release
Portwell Announces WEBS-3583, New High-Performance Fan-Free Box PC, Based on 4th Generation Intel Core Processor
Press release date: June 24, 2014
FREMONT, CA. -- American Portwell Technology, Inc., (http://www.portwell.com) a wholly owned subsidiary of Portwell, Inc., a world-leading innovator in the Industrial PC (IPC) market and a Premier member of the Intel® Internet of Things (IoT) Solutions Alliance, announces WEBS-3583, a high performance fan-less Box PC. Powered by the 4th generation Intel® Core™ processor (formerly codenamed Haswell) with integrated HD4600 graphics engine, the WEBS-3583 system supports high-resolution triple-display output, serving as an ideal platform for performance and graphics-demanding applications.

Portwell's WEBS-3583 is designed to be power-optimized and value-optimized. Instead of adopting a mobile CPU like a traditional embedded system, WEBS-3583 utilizes a 35W Intel® desktop CPU and Intel® Q87chipset, which is more economical compared to its mobile counterpart and provides great efficacy as well as low power consumption; this makes WEBS-3583 not only competitive but outstanding in the market. The system further takes advantage of the Intel® Core™ processor technologies supporting dual channel DDR3 memory up to 16GB. Furthermore, the WEBS-3583 Box PC includes rich I/O interfaces and fast connectivity with: three independent display (DisplayPort/HDMI/VGA) interfaces, two Gigabit Ethernet ports, two RS-232/422/485 ports, four RS-232 ports, four USB 2.0 and four USB 3.0 ports, one 8 bits GPIO port, and Mic-in/Line-in/Line-out. An optional wireless or 3G module can be added via a mini PCIe slot.

In addition, the embedded board that drives the WEBS-3583 system features an innovative PCI/PCIe expansion module. Via a unique gold finger design, users can easily maintain or replace the PCI/PCIe module. Moreover, thanks to the isolated chamber that accommodates an add-on card separately, the system's thermal design is optimized to further maintain operation stability. Additional thermal solutions, such as a customized heat spreader, can be implemented to realize a truly rugged fan-less system with diversified add-on cards. Expansion interfaces include 2 x PCIe, 1 x PCI and 1 x PCIe or 2 x PCI by request.

The rugged, fan-less design makes the WEBS-3583 durable in harsh environment applications, such as factory automation and industrial automation. Portwell's WEBS-3583 has already passed a vibration test of 5Grms/ 5~500Hz and a shock test of 50G, assuring its solidity and reliability. In addition, the system accepts a wide input voltage range from 12V to 36V. This power-source flexibility enables product usage in a variety of situations. Moreover, the WEBS-3583 is more than a robust and dependable Box PC system with high performance and graphics efficacy. Its stylish mechanical design enhances the system's artistry. Potential applications include POS, kiosk and intelligent digital security and surveillance, etc.

Product details: http://www.portwell.com/products/detail.asp?CUSTCHAR1=WEBS-3583

Product availability: In addition to American Portwell Technology, Inc., the Portwell WEBS-3583 high-performance fan-less BOX PC embedded system is also available through Arrow Electronics, Inc. and Avnet, Inc.

About American Portwell Technology
American Portwell Technology, Inc., is a world-leading innovator in the embedded computing market and a Premier member of the Intel® IoT Solutions Alliance. American Portwell Technology designs, manufactures and markets a complete range of PICMG computer boards, embedded computer boards and systems, rackmount systems and network appliances for both OEMs and ODMs. American Portwell is an ISO 9001:2008, ISO 13485:2003 and ISO 14001:2004 certified company. The company is located in Fremont, California. For more information about American Portwell's extensive turnkey solutions and private-label branding service, call 1-877-APT-8899, email info@portwell.com or visit us at http://www.portwell.com.

Intel and Intel Core are registered trademarks of Intel Corporation in the United States and other countries. All products and company names referred to herein may be trademarks or registered trademarks of their respective companies or mark holders.

Product Contact:
Scott Chen
Product Manager
American Portwell Technology, Inc.
510-403-3346
scottc@portwell.com

Media Contact:
Susan Wei
Marketing Executive
American Portwell Technology, Inc.
510-403-3354
susanw@portwell.com