Product News: Computer Hardware & Peripherals
Fanless 17 in. Multi-Touch Panel Computer uses Bay Trail-D CPU.
Press Release Summary: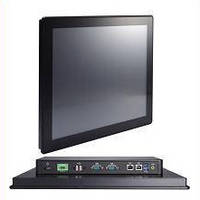 July 23, 2014 - Powered by 2.0 GHz Intel® Bay Trail-D Celeron® J1900 CPU, GOT3177T-834 can handle multiple tasks or heavily multi-threaded applications. Enabled SSE4.1 and SSE4.2 instructions and virtualization feature help enhance performance of virtualized programs. Operating from -10 to +50°C, this all-in-one, industrial, touch panel PC features 17 in., 5:4 aspect ratio, flush, resistive touch LCD with 350 nits brightness and SXGA resolution. Various storage and connectivity options are available.
Original Press Release
Axiomtek Launches Its Newest 17-Inch Fanless Multi Touch Panel Computer with Intel® Bay Trail-D Celeron® Processor - the GOT3177T-834
Press release date: July 18, 2014
Taipei, Taiwan – Axiomtek, one of the world's leading designers and manufacturers of innovative, high performance and reliable PC-based industrial computer products, has announced the arrival of the GOT3177T-834, its newest 17-inch SXGA, fanless, multi-touch panel computer powered by Intel® Bay Trail-D Celeron® processor. This all-in-one industrial-touch panel PC is equipped with a 5:4 aspect ratio flush, resistive touch LCD display with 350nits. The panel system offers a slim design and flexible architecture for fast system deployment and supports noiseless operation. Its wide operating temperature range (-10°C to +50°C) offers great reliability for operations in harsh environments. Its waterproof enclosure (IP65 front bezel) protects the system from liquid damage. The GOT3177T-834 is an excellent human machine interface platform for applications in automation, transportation, oil pipe monitoring systems, self-service kiosk, and environmental monitoring.

The GOT3177T-834 is a low-power consumption panel PC. Its Intel® Bay Trail-D Celeron® quad-core processor J1900 at 2.0GHz can handle multiple tasks or heavily multi-threaded applications. Its enabled SSE4.1 and SSE4.2 instructions and virtualization feature help enhance performance of virtualized programs. This exceptional 17" touch panel PC supports one DDR3L SO-DIMM slot with up to 8GB memory and feature one 2.5" SATA HDD and CFast™ socket. To meet different application needs, the GOT3177T-834 has rich I/O interfaces, including two RS-232/422/485 ports, two Gigabit LANs, two USB 3.0 ports, and two USB 2.0 ports. It also has two PCI Express Mini Card slots for wireless network connection or mSATA storage.

"Axiomtek's GOT3177T-834 comes with an easy-to-deploy modularized design and advanced multi-touch control. It supports WLAN and 3G antennas for wireless connection and offers dual high speed Gigabit Ethernet ports. This feature-rich panel PC also features USB 3.0 drives, which is ten times faster than USB 2.0. Its fast USB 3.0 ports help make mobile operating system installation and maintenance easy, via the use of a thumb drive," said Ivy Lee, product manager of Product Marketing Division at Axiomtek.

The super slim human machine interface can be panel or wall mounted.  It also comes with an optional VESA arm or a desktop stand. This panel PC is CE certified and ready for Windows® 8 or 7.

Axiomtek's GOT3177T-834 will be available in September. For more product information or pricing, please visit us at www.axiomtek.com or contact our sales representative at info@axiomtek.com.tw.

Advanced Features:
l   17-inch GOT3177T-834- SXGA (1280 x 1024) color TFT LCD display with modularized design
l   Fanless cooling system with Intel® Bay Trail-D Celeron® Processor J1900 4C at 2.0GHz
l   Supports one 2.5" SATA HDD, one CFastTM socket or one mSATA
l   Supports WLAN/3G antenna (optional)
l   Supports two USB 3.0 ports, two USB 2.0 ports and two COM ports
l   Supports two PCI Express Mini Card
l   Supports panel mount, wall mount, VESA arm, and desktop stand
l   Supports wide temperature range of -10°C to +50°C and IP65 front bezel