Face Mill Inserts work with aluminum, non-ferrous materials.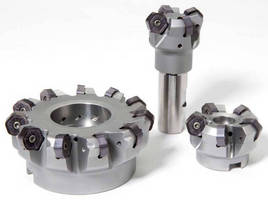 Face Mill Inserts work with aluminum, non-ferrous materials.
June 4, 2010 - WIDIA(TM) inserts for WIDIA Victory M1200(TM) face mill series are designed to provide optimal results in aluminum for milling operations. Also applicable to other non-ferrous materials, inserts come in 2 separate geometries - LDJ and LDJ3W - that both exhibit toughness and wear resistance and feature 12 cutting edges. LDJ geometry features optimized rake angles and is designed to be free-cutting, while LDJ3W wiper style geometry features 3 RH cutting edges and 3 LH cutting edges.

(Archive News Story - Products mentioned in this Archive News Story may or may not be available from the manufacturer.)
Original Press release

Widia Inc.,
1600 Technology Way
Latrobe, PA, 15650
USA



At IMTS 2010, New WIDIA(TM) Inserts for WIDIA Victory M1200(TM) Face Mills Mean More Milling in Aluminum/Non-Ferrous Materials


Booth W-1452

(LATROBE, PA) - New WIDIATM-brand inserts for the very popular and successful WIDIA Victory M1200TM face mill series are especially designed to provide excellent results in aluminum when machining the most common milling operations like roughing, semi-finishing, and finishing. Also applicable to other non-ferrous materials, these new inserts are being introduced at the WIDIA booth W-1452 at IMTS 2010.

Two separate geometries are being offered, and any shop milling aluminum and non-ferrous materials will benefit from using these two inserts in conjunction with the WIDIA Victory M1200 milling cutters. Their combination of toughness and wear resistance allow faster feed rates, and the 12 cutting edges per insert, as well as the reduced power consumption resulting from the free-cutting geometry, make them very economical to use. They are ideally suited for the majority of machining centers in use today using moderate to high spindle speeds and regular depths of cut (up to 4.5mm or 0.180 inch).

The LDJ geometry featuring optimized rake angles is specifically designed to be free-cutting. This insert with 12 cutting edges is available in two grades, THMU and a TiB2-coated TN6501. Both inserts are peripherally ground and feature highly polished rake surfaces. THMU is the first choice for most non-ferrous materials while the TN6501 with its TiB2 coating offers even freer cutting in high silicon aluminum (>8%) due to the coating's extremely low coefficient of friction.

The LDJ3W geometry is a wiper-style geometry where excellent surface finish is required. It features 3 RH cutting edges and 3 LH cutting edges and is offered in the THMU and TN6501 grades also. Both the LDJ and LDJ3W inserts are extremely tough, wear resistant, and durable. They resist built-up edge, reduce burring, and increase surface finish results.

"The WIDIA Victory M1200 is a superior design versus other double-sided platforms available today" says Josef Fellner, global product manager, indexable milling team. "It's a proven best-in-class system, and these new inserts with faster feed rates and reduced power consumption make them the economical tool of choice in aluminum milling."

For more information, visit www.widia.com.

WIDIA Products Group; 800.446.7738

---


Start Your

Free


Subscription to


Industry Market Trends

.