Product News: Electronic Components & Devices
F-Type Attenuators operate from DC to 3 GHz at max power of 2 W.
Press Release Summary: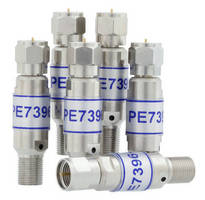 July 14, 2014 - Offered in 1–10 dB values in 1 dB steps, with 16 and 20 dB values also available, F attenuators serve broadcast, HDTV, and satcom applications in L and S microwave bands. These F 75 Ω fixed attenuators, which meet IEC 60169-24 standards, are used for signal leveling and to reduce strong input signals to sensitive broadcasting equipment. Elements of construction include tri-metal plated brass bodies and gold plated center contacts that lend to low loss and uniform signal strength.
Original Press Release
Pasternack Expands Line of F Attenuators Operating from DC to 3 GHz
Press release date: July 8, 2014
New 75 Ohm Broadcast Attenuators for HD Video Applications from Pasternack

Irvine, CA — Pasternack Enterprises, Inc., an industry leading manufacturer and supplier of RF, microwave and millimeter wave products, announces their expanded line of 75 Ohm F attenuators. This new line of F-type attenuators is perfect for broadcast, HDTV and satcom applications in the L and S microwave bands up to 3 GHz.

Pasternack's new F attenuators are available in 1 to 10 dB values in 1 dB steps, with 16 and 20 dB values also available. These F 75 Ohm fixed attenuators are widely used in the broadcast industry for signal leveling and to attenuate (or reduce) strong input signals to sensitive broadcasting equipment.

The new 75 Ohm F attenuators from Pasternack operate from DC to 3 GHz at a max power of 2 Watts, making them high definition TV compatible. Pasternack HD attenuators are constructed with brass bodies that are tri-metal plated for added durability. The center contacts are gold plated which provides low loss and uniform signal strength for the life of the product. These F attenuators meet IEC 60169-24 standards and are compatible all other standard F-type components.

"Pasternack expands its 75 Ohm product offering to now include 75 Ohm HD type-F attenuators that operate to 3 GHz," says Gerry Camacho, VP of Technical Marketing at Pasternack Enterprises, Inc. "Our new line of F attenuators are available in 1 dB steps up to 10 dB, which are a good solution for signal strength leveling."

The new 3 GHz F attenuators are in-stock and available to ship from Pasternack now. For additional information and details about these HDTV attenuators, please visit http://www.pasternack.com/pages/Featured_Products/f-attenuators.htm. For inquiries, Pasternack Enterprises, Inc. can be contacted at +1-949-261-1920.

About Pasternack
A leader in RF products since 1972, Pasternack is an ISO 9001:2008 certified manufacturer and supplier that offers the industry's largest selection of passive and active RF, microwave and millimeter wave products available for same-day shipping.

Press Contact:
Shaun Gameroz
Pasternack Enterprises, Inc.
17802 Fitch
Irvine, CA 92614
(949) 261-1920