Product News: Mechanical Components & Assemblies
Extruded Rubber meets smoke and flame requirements.
Press Release Summary: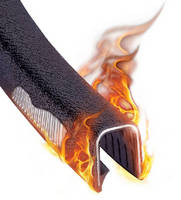 June 30, 2014 - Flammability, Smoke, and Toxicity Certified Dense Rubber Material targets customers that have Smoke and Flame requirements typically found in mass transit and aviation applications. FST Rated Materials are certified to highest industry standards, including: ASTM E 162, ASTM E 662, ASTM E 1354, ASTM D 3675, ASTM C 542, BS 6853, BSS 7239, NF F 16-101, and SMP 800 C.
Original Press Release
Trim-Lok, Inc. Announces Flammability, Smoke and Toxicity (FST) Capabilities
Press release date: June 25, 2014
Buena Park, CA,  – Trim-Lok Inc. announces the release of a Flammability, Smoke and Toxicity (FST) Certified Dense Rubber Material to expand their already extensive extrusion capabilities.  This addition helps Trim-Lok serve their customers that have Smoke and Flame requirements typically required in mass transit and aviation applications. 

Trim-Lok's new FST Rated Materials are certified to the highest industry standards, including: ASTM E 162, ASTM E 662, ASTM E 1354, ASTM D 3675, ASTM C 542, BS 6853, BSS 7239, NF F 16-101, SMP 800 C.

"There have been very few suppliers in the country able to supply such a material and Trim-Lok is proud to have finally developed it to offer to their customers," said Dan Whitener, Trim-Lok's New Product Development Manager.

Trim-Lok, Inc. is an ISO/TS 16949 Quality Certified supplier of custom extruded rubber and plastic parts, and with the addition of FST approved materials now has even more ways to meet the needs of its customers.

About Trim-Lok, Inc.
Trim-Lok, Inc. is a well-recognized and respected manufacturer of high quality rubber and plastic extrusion trims and seals, and with over 40 years of experience Trim-Lok supplies parts into over 20 different industries!  Trim-Lok, Inc. continues to be at the forefront of developing new and innovative product solutions, such as their proprietary Flap Seal and Hatch Seal that no other company offers.

Trim-Lok has made ordering even easier by re-designing their website which features a proprietary product builder ordering system.  Customers will appreciate the ability to easily order products online without the hassle of calculating product codes and part numbers. 

Additionally, customers can utilize the site to request a FREE copy Trim-lok's Catalog 650 and order FREE product samples to "try before you buy" to insure the part works in the application.  Customers can also contact Trim-Lok, Inc. toll free at 888-TRIM-LOK (874-6565) or email at info@trimlok.com for more information or to request a Trim-Lok sales rep contact them for design/application assistance. 

Contact: Vanda Barcelos, Marketing Coordinator
Address: 6855 Hermosa Circle, Buena Park, CA  90622
Phone: 714-562-0500, ext. 1185
Email: vbarcelos@trimlok.com
URL: www.trimlok.com